Community health update from Assemblyman Bill Magnarelli
New York State offers many resources to help make
health care more affordable for you and your family.
Available health care programs include:
Family Health Plus
Child Health Plus
Healthy NY
Women, Infants, and Children (WIC)
Visit
www.mybenefits.ny.gov
for information and eligibility requirements.
Prescription $aver Card
The Prescription $aver Card is a free pharmacy discount card that offers savings on thousands of prescription drugs. For more information, eligibility requirements or to apply for a card, visit nyprescriptionsaver.fhsc.com or call 1-800-788-6917 to request a form.
EPIC
Certain seniors can save additional money on prescription drugs through the Elderly Pharmaceutical Insurance Coverage (EPIC) program. For more information, eligibility requirements or to apply, visit
www.health.state.ny.us/health_care/epic/
or call 1-800-332-3742.
Breast cancer support and education
New York has the only statewide coalition of community-based organizations with a breast care focus. Visit www.nysbcsen.org for up-to-date information about prevention, risk reduction, treatment options and more.
October is Breast Cancer Awareness Month. For information on local screening services, call the Onondaga County Department of Health at 435-3653.

Assemblyman Magnarelli knows how important it is to help the families of vulnerable adults. That's why he introduced legislation to aid in the recovery of those individuals should they go missing (A.5220-A). Similar to the Amber Alert system, a "Jade Alert" would require a response within 24 hours of any senior citizen or at-risk adult being identified and reported as missing, and make federal, state and local law enforcement resources available to aid in their recovery.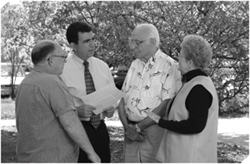 Assemblyman Magnarelli has worked hard to provide Central New Yorkers with access to quality, affordable health care by securing needed funding for local health care providers, including:
$500,000 for the Crouse Hospital Pediatric Unit
$250,000 for vital signs monitors at St. Joseph's Hospital
$125,000 for the St. Camillus Health and Rehabilitation Center

"Protecting the health of our families, friends and neighbors is important. I will continue to defend and fight to expand the vital health care services Central New Yorkers depend on."