Elba Central School Fourth Grade Students
Learn About Albany from State Representatives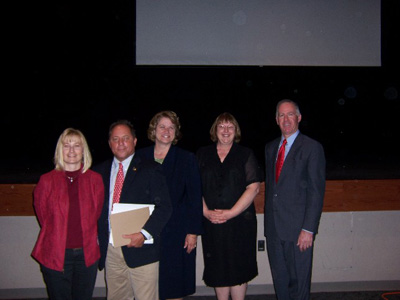 Pictured, from left to right, are Loren Pflaumer, a school board member and parent; Assemblyman Steve Hawley; Elba Central Superintendent, Joan Cole; 4th Grade Teacher, Kathy McCallister; and Senator Mike Ranzenhofer.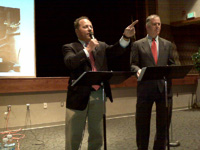 Assemblyman Steve Hawley teamed up with Senator Ranzenhofer to present the fourth grade students of Elba Central School with a Virtual Tour of Albany on Thursday, April 30, 2009. All New York State students learn about the three branches of government and the United States Constitution as a curriculum requirement in the forth grade. Due to budget constraints many local school districts were unable to send students to Albany this year. Assemblyman Hawley and Senator Ranzenhofer teamed up to bring an innovative interactive slide show of Albany to the students at Elba Elementary School.
So, fourth grade students at Elba had two new instructors on Thursday, April 30. The students were poised throughout the interactive presentation answering questions about government, New York State, and voiced opinions on different laws in our state. Needless to say, the fourth grade students at Elba Central do not support raising the driving age beyond 16 and many expressed a need to lower it to 11 years of age.