Veterans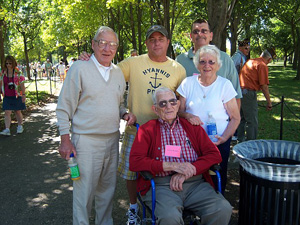 Pictured standing are former Assemblyman R. Stephen Hawley (WWII), Assemblyman Steve Hawley (Ohio Army National Guard), Ralph Clute (Korean), Louise Brooks, and, sitting, C. Avery Brooks (WWII).
As a former member of the National Guard and U.S. Army Reserves, I am passionate about ensuring that veterans receive the support they deserve. Recently appointed as the Ranking Minority Member to the Assembly Veterans' Affairs Committee, I am dedicated to serving veterans throughout New York State. I have introduced many bills that will give back to veterans who have given so much to protect our freedom and the values that America was founded upon.
My legislation to assist military personnel and their families include giving property tax credits to veterans and current service personnel; affording soldiers with the opportunity to secure funding for a higher education tuition program; and ensuring the service of our military is honored.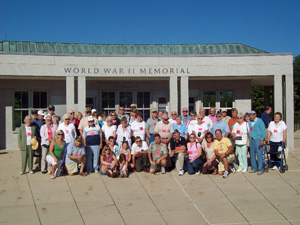 Pictured are many of the Veterans and their families who attended the inaugural 2008 Patriot Trip.
Another important issue facing veterans that I am working to fix is providing mental health care to veterans currently returning from overseas combat. While those enlisted in the military go back to a base where they often do receive mental health care, many of our troops overseas are comprised of reservists who return directly into society, never having a chance to be diagnosed or treated for a variety of mental health concerns, such as post traumatic stress disorder. As the Minority Ranker, I am working to bring attention to this growing concern, help returning veterans get the health care they deserve and, together with my colleagues, working to change the laws so that funding and services are more widely available.
My commitment to veterans does not end in Albany. I have established an annual "Patriot Trip" to Washington D.C. where I personally accompany veterans and their families around the various monuments erected in their honor. On our first annual trip, spending time at the spectacular WWII monument was an emotional and somber time for many of the veterans who participated as well as me. Stories were shared to families exposing memories of their husband, father, or grandfather that they had never previously known. I was honored to be able to provide this trip to many families and will continue to offer this annual patriotic event to all veterans. Learn more about my upcoming trip this fall by calling my district office at (585) 589-5780.