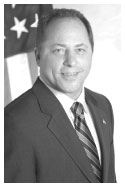 Dear Neighbor,
In January, taxpayers were told that their state government was going to tighten its belt like our families, farms, and small businesses have to do everyday. Sadly, despite their rhetoric, Albany leaders once again went back on their promises and proposed a nearly complete state budget that is 3 months late and counting, increases overall spending by $3 billion, and worst of all, uses $1.45 billion in tax increases and more state borrowing to close the $9.2 billion budget deficit.
The "three-men-in-a-room" budget process, where only the Governor, Assembly Speaker, and Senate Majority Conference Leader – all from New York City – make budget decisions, must end. This year, the process not only left the rank-and-file members, and their constituents, in the dark during the state's fiscal crisis, but it also caused our schools, local governments, contractors, small businesses and, more important, the taxpayers to suffer unfairly, while their New York City special interest groups were saved from difficult budget cuts.
I voted against the 2010-2011 State Budget and will continue to make reforming the budget process and ending Albany's tax-and-spend policies that caused the $9.2 billion budget gap my top priority.
Sincerely,



Steve Hawley