Assemblywoman Pheffer Moves Legislation to Ban the Sale of Novelty Lighters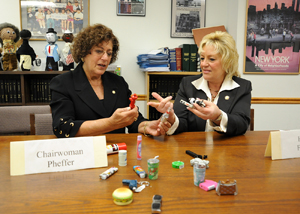 Pictured l-r: Assemblywoman Audrey I. Pheffer, Chair, Consumer Affairs & Protections Committee and Assemblywoman Ginny Fields, Chair, Subcommittee on Child Product Safety, examining some of the novelty lighters currently on the market.

Assemblywoman Audrey I. Pheffer (D-Queens), Chair of the Assembly Consumer Affairs and Protection Committee, recently reported from Committee, legislation to ban the sale of novelty lighters in New York State. The legislation is now under consideration by the Assembly Codes Committee.

The Federal Consumer Product Safety Commission has recalled thousands of novelty lighters since 1996 due to their danger to public safety. Some of these novelty lighters have features that are attractive to children including musical sounds, toy-like designs and flashing lights.

"Fires set by juveniles are the fastest-growing fire threat in the United States. Annually more than 300 people are killed, 30% of whom are children. These fires have also caused almost $1 billion in property damage. It is vital that would remove this dangerous product from the market to ensure the safety of our children," said Pheffer.

Fatal fires caused by novelty lighters have been documented in several states, including in September 2007 when two young boys in Arkansas died in a fire they accidentally set to their apartment with a motorcycle-shaped lighter. Since the fatal fire, at least 21 municipalities in Arkansas have passed ordinances banning the sale of novelty lighters. Municipal and county governments in California, Colorado, and Washington have also passed bans on novelty-lighter sales.

In March of 2008, the State of Maine's Governor signed into law similar legislation which would prohibit the sale novelty lighters. The Oregon State Legislature also recently passed legislation banning novelty lighters and nineteen (19) other states have similar legislation. It is important that New York State do the same to protect our families from such preventable fires.