Contact:
Doug Finch (315) 781-2030
For Release:
April 20, 2009
Brian Kolb Awards New York State Conspicuous Service Cross
Photo Caption From Assembly Minority Leader Brian M. Kolb (R,I,C-Canandaigua)
Assembly Minority Leader, Brian M. Kolb, (R,I,C-Canandaigua) recently awarded New York State's highest veteran's honor - the Conspicuous Service Cross - to Mr. Nicholas Cocola of Geneva, New York. Mr. Cocola previously was the recipient of the Bronze Star Medal, and honorably served the United States of America during World War II, voluntarily serving two tours of duty overseas in combat theatres. Mr. Cocola's family and friends joined him at Kolb's district office for the award ceremony.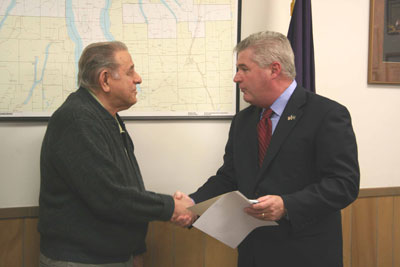 Pictured (top) are, New York State Conspicuous Service Cross recipient Nicholas Cocola (left) and Assembly Minority Leader Brian M. Kolb (right).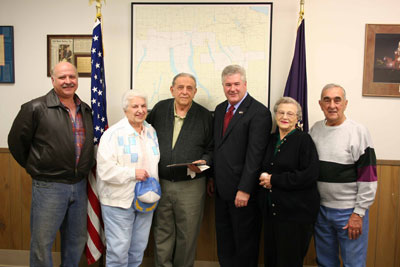 Pictured (above) are, from left to right: Jim Cocola; Tina Cocola; Nick Cocola; Leader Kolb; Theresa Piccillo and Joseph Piccillo.