News from Assembly Minority Leader Brian M. Kolb
For Release: IMMEDIATELY, May 10, 2011
Contact: Laurie Ammerman (518) 455-5073
Assembly Minority Leader Kolb Joins With Taxpayers From Across New York State To Call For Passage Of A Property Tax Cap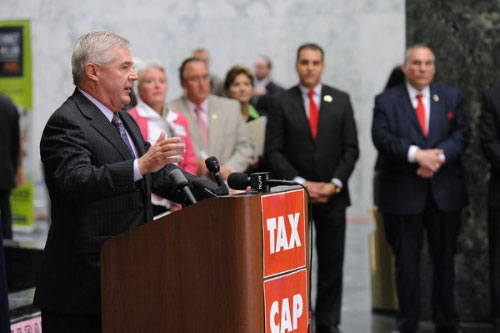 Assembly Minority Leader Brian M. Kolb (R,I,C-Canandaigua) is pictured (left, at podium) speaking in support of a property tax cap at a rally organized by Long Islanders For Educational Reform (LIFER) today in Albany. New Yorkers from across the state attended the event to build support for property tax cap legislation and urge swift passage of the bill in the Assembly.
Since 2007, the Assembly Minority Conference has led the charge to provide property tax relief to overburdened homeowners and businesses. On April 11th of this year, the Conference went on record in support of Governor Cuomo's Property Tax Program Bill, but the Assembly Majority, using a procedural measure, would not allow it to come to the floor for a vote.
Leader Kolb is calling for an immediate up or down vote so that New York State taxpayers can see who really supports a property tax cap - and who doesn't.