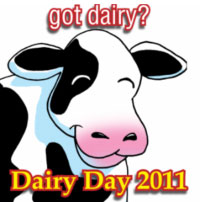 NEW YORK STATE ASSEMBLY
MINORITY CONFERENCE
Brian M. Kolb
Assembly Minority Leader
Ken Blankenbush
Ranking Minority Member, Assembly Agriculture Committee

For Release: IMMEDIATELY, June 7, 2011
Contact: Laurie Ammerman, (518) 455-5073
Got Dairy?
Assembly Minority Leader Brian Kolb & Assemblyman Ken Blankenbush Host Annual "Dairy Day" Reception in Albany
Assembly Minority Leader Brian M. Kolb (R,I,C-Canandaigua), Assemblyman Ken Blankenbush (R,C-Black River), Minority Ranker on the Assembly Agriculture Committee, and their legislative colleagues today joined state agriculture representatives and members of New York's dairy industry at the annual Dairy Day reception in Albany. The event, which has become an Assembly Minority tradition, was held in recognition of "June is Dairy Month."
"It is an honor to acknowledge the great success of our state's dairy industry during this annual celebration," said Kolb. "My Conference and I are proud to support the hard-working men and women who have dedicated their lives to farming and making New York a national leader in dairy production."
Agriculture is the backbone of New York's economy - with 5,799 dairy farms in operation in 2007 - according to Comptroller DiNapoli's 'The Role of Agriculture in the New York State Economy February 2010' report. New York also ranks third in the nation when it comes to dairy production. Total milk production in New York during 2010 was approximately 1.4 billion gallons. However, milk isn't the only dairy product being churned out -New York also provides the nation with abundant supplies of ice cream, cheese, yogurt and butter.
"Dairy is the chief agricultural industry in my district," said Blankenbush. "I'm happy to host Dairy Day in Albany to help promote New York's wonderful products and the family farms that are at their core. More and more, New Yorkers are becoming removed from how their food is produced. I want to make sure that the people making decisions and policies that affect the dairy industry have the opportunity to meet our dairy farmers so they can understand their needs."
"It is important every year during the month of June to recognize the role the largest segment of agriculture (the dairy industry) in New York State plays in our daily lives," said Bruce Krupke, Executive Vice President of the Northeast Dairy Foods Association Inc. "The dairy products that are supplied and produced by farmers and processed by milk and dairy manufacturers are a very important segment of our state's economy, but also play a very significant role in consumers' good nutrition. I encourage consumers to rediscover the great taste of a good cold glass of milk or two with their next meal in celebration of June is Dairy Month!"
"New York's dairy farmers, like myself, are proud to take part in this annual celebration of the dairy industry," said Eric Ooms, Vice President of New York Farm Bureau and a dairy farmer from Valatie, New York. "While facing many struggles over the past several years with low prices, rough weather and high costs, our industry continues to be a national leader in milk production and milk quality. We are fortunate to have so many lawmakers in Albany on our side, recognizing the importance of our industry to the rural economy and placing a high value on the jobs we create, the open vistas we provide and the high quality dairy products we produce. Our farmers raise a glass of milk in salute to the legislators in Albany who salute us during Dairy Month festivities."
Others in attendance at the reception included Assemblyman William Magee, Chair of the Assembly Agriculture Committee; Matthew Morgan, New York State Deputy Commissioner of Agriculture and Markets; Stephen Coye, Vice President, New York State Grange; and Carroll Wade, President, American Dairy Association and Dairy Council.
"The dairy industry has a rich tradition and history in New York State," Kolb said. "Dairy farms, distributors and processors combined contribute roughly $10 billion to our economy each year. In 2010 alone, New York's milk cows brought in $2.2 billion in sales of milk, yogurt, cheese, butter and other dairy products. Dairy Day offers an excellent opportunity for all New Yorkers to recognize and give thanks for the bounty our state's farmers provide."
Vendors featured at today's event included the American Dairy Association and Dairy Council; Cabot Creamery Cooperative; Chobani; Cornell Cooperative of Lewis County; Dairylea Cooperative, Inc. and Dairy Farmers of America, Northeast Council; Garelick Farms; H.P. Hood; New York Farm Bureau; Northeast Dairy Foods Association, Inc.; PRO-DAIRY; Stewart's Shops; SUNY Cobleskill; and Upstate Niagara Cooperative.