Governorís Press Conference Regarding Proposals To Better Protect Vulnerable New Yorkers

Capitol, Red Room
Monday, May 7, 2012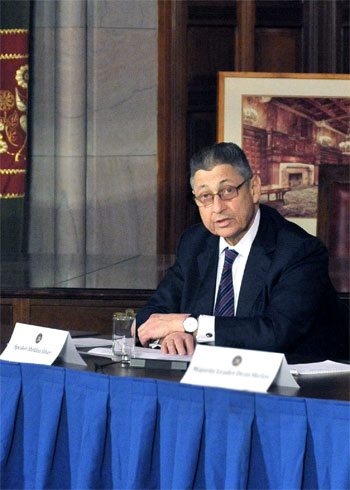 Assembly Speaker Sheldon Silver joined Governor Andrew Cuomo and Assemblyman Harvey Weisenberg and Mental Health Committee Chair Felix Oritz for a news conference today to announce new legislation to strengthen the state's efforts to protect citizens with special needs and disabilities.
Among the many duties of government, none is more fundamental, none is a greater measure of our character as a society, than how well we care for and protect those citizens who cannot care for, speak for, or defend themselves. When abuse occurs at the hands of those who are responsible for providing that care and protection, the failure is profound.
Last year, we in the Assembly conducted a series of statewide hearings to examine the abuse of individuals with developmental disabilities that occurred at group homes and institutions throughout New York.
At these hearings, which were led by the Chair of our Committee on Mental Health, Assemblyman Felix Ortiz, we received testimony detailing a number of troubling cases of abuse and neglect that clearly demonstrated the need for comprehensive reform. We followed up our hearings with a package of legislation to improve the quality of care for our most vulnerable citizens and to better protect those residing in our group homes and institutions.
As my colleague, Assemblyman Harvey Weisenberg, a dedicated and longtime champion of our most vulnerable, consistently preaches, much more needs to be done.
The Governor and his Administration have inherited this crisis and to his credit, the Governor has outlined a plan to inject much-needed accountability into the system and to eliminate its abuses. We support the overarching goals of the legislation outlined today. The proposal crosses many of our committee jurisdictions and we will work with the various committee chairs to ensure the issues are fully addressed.
As we have learned over the years, the challenges here are complex, highly sensitive, and require substantial discussion that must include the Governor, the Legislature, advocates and those who care for our most vulnerable citizens. That being said, and let me be clear about this, the vast majority of direct care workers are dedicated, compassionate people who are doing noble but vastly under appreciated work.
The abuses we hear about and read about are not the norm. Still, they must be dealt with appropriately and thoughtfully, and prevented into the future.
We are committed to working with the Governor and with our colleagues in the Senate to craft comprehensive reforms that ensure each and every citizen in the stateís care is respected, properly cared for, and safe from harm.
I salute you, Governor, for taking this issue to the forefront in this comprehensive way.