FOR IMMEDIATE RELEASE:
August 13, 2012

Speaker Silver Announces Funding for Programs to
Aid Young Immigrant Men and Women
Programs Will Aid Immigrants Who Came to the United States as Children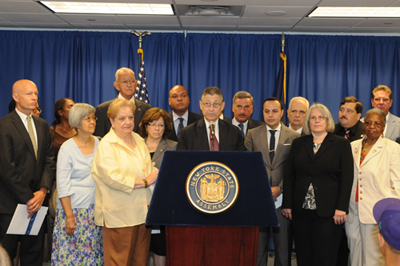 As new federal rules are ready to take effect this week to help young immigrants come out of the shadows, Assembly Speaker Sheldon Silver today announced funding for three organizations which have developed unique programs to help individuals navigate the complex application process for deferred action and provide them the support they need to gain temporary work permits.
The New York Immigration Coalition, Make the Road NY, and Legal Services NYC will each receive $150,000 from the enacted state budget to fund the programs, which will focus on outreach to young immigrants and their families to help them overcome barriers to education, employment and economic empowerment.
On August 15th, the Department of Homeland Security will begin accepting applications from young immigrant men and women who are qualified for deferred action. Immigrants who came to the United States as children may request consideration of deferred action for a period of two years. During this deferral, immigrant youth would then be eligible for work permits, which will enable them to obtain a driver's license as well as a Social Security number.
"This is a profoundly humane policy for hundreds of thousands of young people who know no other home than the United States and who live in perpetual fear of deportation," said Silver. "With the implementation of this policy, it is critical that we get information out to our immigrant communities, so that people will know who is eligible for deferred action."
The new federal policy on deferred action is essential to ensuring that youth who come to the United States, from around the world, have the opportunity to work hard and build a better life for their families. This funding will assist New York's immigrant youth to navigate this complex legal system, ultimately allowing them to pursue an education, develop careers and provide for themselves and their families.
The programs include:
New York State Immigrant Action Fund & the New York Immigration Coalition
A grant of $150,000 is awarded to the New York State Immigrant Action Fund and the New York Immigration Coalition who are working in partnership to create the New York State DREAM Legal Services Network. This project will bring together community-based organizations, immigrant legal services groups and law firms to aid youth immigrants in applying for deferred action.
Make the Road NY
A grant of $150,000 is awarded to Make the Road NY. This funding will be used to hire a youth immigration attorney and a paralegal to assist applicants for deferred action. Additionally, a number of full-service clinics will be held to provide initial screening and assistance in compiling applications, supporting documents and fee exemption requests.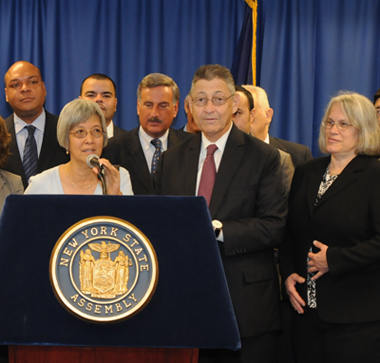 Legal Services NYC
A grant of $150,000 is awarded to Legal Services NYC. This funding will support Community College CONNECT, an innovative citywide project to support low-income community college students through legal advice, advocacy and community education. Additionally, a series of legal education clinics will be held at Hostos and LaGuardia Community Colleges to address deferred action and paths to citizenship.
"With the generous support of Assembly Speaker Silver we are partnering with the New York Immigration Coalition and its member groups, to launch a statewide initiative comprised of multi-ethnic community and legal groups to provide support to young people who are eligible for deferred action. We are extremely excited to help so many young people get on a path to a brighter future," said May Chen, President of the New York State Immigrant Action Fund.
"We applaud Speaker Silver's leadership in quickly responding to the historic opportunity provided to tens of thousands of young people in New York. We are proud to join the New York State Action Fund and our partners around the state in ensuring that accurate information and trusted legal assistance is provided to DREAMers and their families. Our quality services will help DREAMers remain in the United States, finish school and contribute even more to the economy," said Chung-Wha Hong, executive director of the New York Immigration Coalition, a membership coalition of nearly 200 organizations that has served as an information clearinghouse and convener of diverse groups to work together on the new deferred action policy.
"Since the announcement of deferred action for childhood arrivals on June 15th, thousands of DREAMers and their families have been trying to find out whether they are eligible and how to apply. Make the Road NY has answered these questions for hundreds of young people already so that they haven't fallen prey to unscrupulous operators, and we are working to reach many more," said Marika Dias, managing attorney for Make the Road NY. "With the DREAM Legal Services funding we can now offer a range of legal services to help DREAMers get deferred action."
"Legal Services NYC is delighted to work with our sister organizations to help immigrant community college students realize the American dream. In spite of their sacrifices and hard-work, these students' success can be easily derailed by unlawful evictions that leave them facing homelessness, by unscrupulous lenders who prey on immigrants' efforts to maintain financial stability, and by similar challenges that they face every day.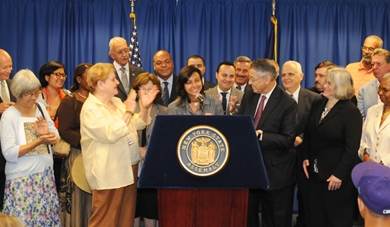 When students understand their legal rights and have advocates to help them, disruptions and crises can be prevented. Legal Services NYC is very pleased that Speaker Silver has provided the leadership that will allow all of us to work together to help these students create a better life for themselves and their families,"
Raunn Rasmussen, Executive Director, Legal Services New York City
.
"My colleagues in the Assembly Majority have worked tirelessly to address the varied needs of our immigrant communities. I am pleased to join with them to announce this critical funding that will give today's immigrant youth the same opportunity to work hard, to achieve, to succeed and to prosper that our immigrant forebears had," said Silver.