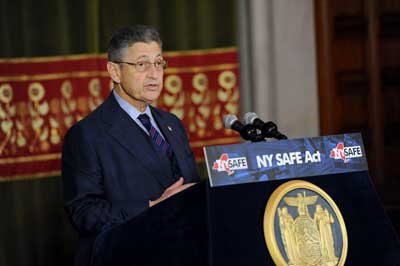 Close Me!
Speaker Silver at Governor Cuomo's signing of the NY SAFE Act of 2013. Silver noted the act will crack down on gun violence and implement the most restrictive gun control measures in the nation.
Speaker Silver, along with the other leaders of the Legislature, applaud Governor Andrew Cuomo for signing the NYSAFE Act at the Capitol. Silver says the new law will strengthen the statewide ban on assault weapons, help to stop straw purchases of weapons, limit the number of bullets in a firearm and require background checks on purchases of ammunition.
Silver (on right) answers reporter's questions with Governor Cuomo about the newly enacted prohibition on high-capacity ammunition magazines. He noted that the NY SAFEACT would protect the public, children and first responders from machines designed to kill the most number of people in the shortest time possible.