Campaign For Summer Jobs Annual Youth Action Day

Well Of The Legislative Office Building, Albany, NY
Tuesday, January 29, 2013
As Prepared For Delivery
Assembly Speaker Sheldon Silver (at podium) addresses the Campaign for Summer Job Youth Action Day in Albany, where young people gathered at the Capitol to lobby for the Summer Youth Employment Program.
Thank you, Destiny and Isetou, for your very kind and generous introduction and thank you, members of the Campaign for Summer Jobs, for your warm greeting.
On behalf of the members of the New York State Assembly, I welcome you to Albany, the capital of our Empire State. My thanks to all of you for taking the time to visit our government.
Not every young person who will need a job this summer is able to be here today. That you came to speak for all of them is what real public service is all about.
I and my Assembly colleagues truly admire the leadership you are showing by being here to advocate for the summer jobs program.
It is the reason why I - and so many of the leaders of our Legislature - attend your "Youth Action Day" every year, because we respect each and every one of you, and we know from our own experiences how important it is to have a good summer job.
I, myself, spent my summers working at my father's hardware store on Ludlow Street. The lessons I learned during those years, I still rely on today.
Speaking of the Lower East Side of Manhattan, my hometown, I am hoping that I have some neighbors here with me this morning.
Is there anyone from the Grand Street Settlement?
How about University Settlement?
What about the Chinese American Planning Council?
I am a big fan and a longtime supporter of the United Neighborhood Houses and the Neighborhood Family Services Coalition.
These organizations are critically important in the City of New York, so I want to take a moment to recognize two community heroes who help guide these agencies.
For the terrific job they do, let's give a well-deserved round of applause to Gigi Li and to Kevin Douglas.
Gigi is not only a great advocate for summer jobs, she is also the superb chairperson of my community board, Community Board Three.
Okay, let's talk about jobs for a moment.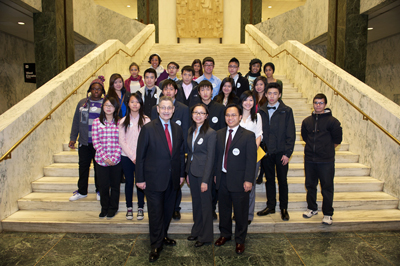 Silver met with advocates for the Campaign for Summer Jobs, many of whom hailed from the Speaker's hometown, the Lower East Side, including representatives of the Grand Street Settlement; University Settlement and the Chinese American Planning Council.
As Gigi and Kevin can tell you, the Assembly Majority always stands up for the Campaign for Summer Jobs, and as long as I am the Speaker of the Assembly, we always will.
We know that summer jobs provide you with experience that is important for your futures.
We know that the dollars earned by doing these jobs help support your families and enable you to purchase the clothing and the school supplies that you need.
We know that, as summer employees, your work is vital to the every-day operation of day camps, libraries, hospitals, senior centers and recreational facilities throughout the City of New York and across our state.
Were it possible for our state and local governments to provide all of the funding necessary to ensure that every young person who needs a summer job has a summer job, we would gladly support it, but the reality is that our economy is still weak.
To his credit, the Governor has included in his executive budget proposal, $25 million for the Summer Youth Employment Program. He is concerned, as we are, about the extremely high rates of unemployment among our youth, particularly the young men and women living in our inner-city communities.
We need to do all that we can today to help our young people not only because it is the right thing to do, but because you are the future leaders of our state and our nation.
Right now, you have an opportunity to make your voices heard. This is your day to educate your leaders about the importance of summer jobs, but please, don't let it end today.
Write to your leaders. E-mail your leaders. Tweet your leaders. Stay in touch. Help us to understand how we can help you.
In return, I promise that I and my Assembly Majority colleagues will continue to speak up for you here in Albany, in the City of New York, and in every city, town and village from the Bronx to Buffalo.
For now, please, enjoy your day in Albany. Make the most of it, and on behalf of young people throughout the State of New York who will be looking for jobs this summer, thank you for being here.