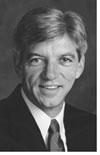 A Message from the Chair...
Dear Friend,
Navigating the maze of advocates and service providers for people with disabilities is often a very daunting task. It may be difficult to determine who to call when trying to tackle a disability-related problem. However, there are a number of people who would be happy to assist you.
To help you in this process, I have put together this brochure listing the names and numbers of many of the organizations that provide assistance to people with disabilities. I hope you find this information helpful.



Sincerely,

Kevin A. Cahill, Chair
NYS Assembly Task Force on
People with Disabilities