Assemblyman Bob Sweeney debates in favor of legislation (A.10303/Sweeney) that would authorize the state Department of Environmental Conservation to place restrictions on the levels of greenhouse gases that can be emitted statewide. "This legislation requires DEC to set reasonable goals to curb emissions, while defining the scope of substances known to contribute to climate change. By passing this bill, New York will help to address this global dilemma," said Sweeney. The legislation passed the Assembly by a vote of 124 to 14. The bill has not yet been acted upon by the state Senate.
---
Childrens' Environmental Health Centers
Chronic diseases of environmental origin are an increasing problem for children of New York State. These include: asthma; lead poisoning; cancer; birth defects; mental retardation; autism; ADHD; and behavioral, learning and psychiatric disorders. Environmental links have already been established for many of these chronic health issues, and research is continuing to provide new evidence each day. The budget contains $800,000 for the establishment of a network of Childrens' Environmental Health Centers to examine environmental factors associated with illnesses such as asthma and lead poisoning.
Health care providers can provide immediate help and limit children's exposure to environmental hazards through parental education, identification of hazardous exposures, diagnosis and treatment of children and advocating for prevention. However, facilities where children can be seen and evaluated for environmental exposures are few and widely dispersed across the nation. In New York, many physicians are not trained to suspect the environment as a cause of disease, with less than 20 percent of pediatricians receiving specific training in environmental history taking.
Centers of Excellence will achieve the following: increase the accuracy of diagnosis and improve the treatment of childrens' diseases caused by environmental factors; help to prevent diseases caused by environmental factors; better quantify and qualify childrens' diseases of environmental origin; strengthen and expand educational programs in childrens' environmental health for professionals at all levels.
"The centers will help increase the accuracy of diagnosis and improve the treatment of childrens' diseases caused by environmental factors," said Assemblyman Bob Sweeney. Existing centers are located on Long Island at Stony Brook University, Mount Sinai Hospital in New York City and in Rochester at the University of Rochester. Future centers are expected to be located in Westchester, Albany, Syracuse, Buffalo, and Cooperstown.
---
Earth Day
On April 15, 2008, the Assembly commemorated Earth Day by passing an 11 bill package. The legislation ranged from measures that address global warming and regulate e-waste to initiatives aimed at protecting water resources and public health. A summary of those initiatives follows:
A.1629 (Peralta) – requires New York City's local solid waste management plan to include provisions related to the placement of an adequate number of trash and recyclable receptacles near commercial business districts and public recreational areas.

A.7133 (Sweeney) – provides the Department of Environmental Conservation (DEC) with regulatory authority over freshwater wetlands of one acre or more in size and other wetlands of significant local importance.

A.7231 (Jaffee) – establishes standards for the testing of drinking water from privately-owned wells to ensure the health and safety of New York State residents.

A.7335 (Hoyt) – requires state agencies to fund infrastructure projects in a manner consistent with smart growth principles.

A.7365-A (Sweeney) – allocates funds raised from emission allowance auctions, associated with the Regional Greenhouse Gas Initiative (RGGI), for the support of greenhouse gas emission reduction, energy efficiency, renewable energy development and clean air technology programs.

A.7366-A (Gianaris) – creates the Climate Change Solutions Fund, within the state Finance Law, to receive proceeds from the auction of emissions allowances associated with the RGGI.

A.7483-A (Sweeney) – establishes minimum specifications for recycled content, waste reduction, energy efficiency, and green building design for commodities procured by state agencies and establishes the state Healthy and Green Procurement Coordinating Council.

A.7977-B (Sweeney) –prohibits the manufacture, processing or distribution of the brominated flame retardant decabrominated diphenyl ether (decaBDE) beginning July 1, 2010.

A.8810-C (Sweeney) – requires retailers to implement a plastic bag recycling program, establishes labeling requirements for compostable bags and encourages consumers to utilize re-usable bags.

A.8444-B (Sweeney) – requires manufacturers of certain electronic equipment, including computers and televisions, to accept such equipment for recycling and reuse.

A.10303 (Sweeney) – authorizes DEC to promulgate rules and regulations aimed at curbing greenhouse gas emissions in New York State, including the development of a statewide cap on emissions.

K.1422 (Destito) – resolution memorializing Congress to meet the country's growing wastewater infrastructure needs by increasing funding for such infrastructure.

K.1423 (Boyland) – resolution memorializing Congress to combat the adverse effects of global warming by capping greenhouse gases and pollution levels and reducing them 80 percent by 2050.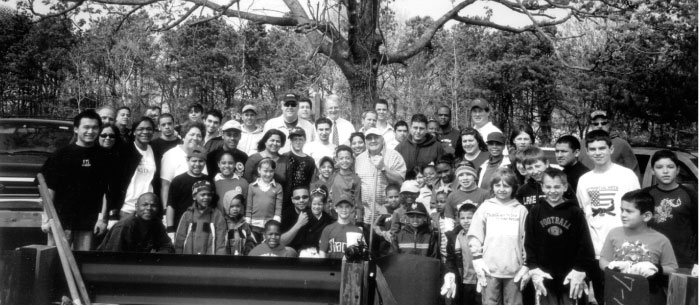 A group of volunteers joined Assemblyman Sweeney to help clean up litter in the Oak Brush Preserve. The budget includes $500,000 for the Oak Brush State Preserve. The funding will be used for improvements including an Interpretive/Visitor Center.
---
Electronic Waste Management
One of the landmark bills passed by the Assembly on Earth Day was the "Electronic Equipment and Recycling Act" (A.8444-B/ Sweeney). Electronic waste represents one of the fastest growing and most hazardous components of New York's waste stream, containing many toxic substances, including lead, mercury, chromium, cadmium, polyvinyl chloride and beryllium. There are direct environmental and public health consequences for New York State residents and workers from the improper handling and disposal of electronic waste, but there is currently no comprehensive system for managing the growing problem of electronic waste in the state. This bill seeks to establish a comprehensive system for the collection, handling and recycling or reuse of discarded electronic equipment.
This legislation would create an electronic recycling and reuse program whereby manufacturers of certain covered electronic equipment would be responsible for developing a plan for the collection, handling and recycling or reuse of the electronic equipment that is offered for return in the state. Covered electronic equipment would include computers, televisions, and printers. In addition, manufacturers would be responsible for all costs associated with the development and implementation of the electronic waste management plan and would be prohibited from imposing a fee on consumers for the collection, handling and recycling or reuse of covered electronic equipment.
---
Assembly Addresses Global Warming
Scientific studies, including those from the Union of Concerned Scientists and Intergovernmental Panel on Climate Change (2007 Nobel Peace Prize winner) have concluded that global warming poses a serious threat. The continued emission of greenhouse gases will increase the Earth's temperature, leading to rising sea levels, threats to public welfare and other ecological changes, dramatically affecting fisheries, wildlife and natural resources.
In order to help combat global warming, the Assembly passed legislation (A.10303 Sweeney) that would authorize the Department of Environmental Conservation to establish greenhouse gas emission reporting requirements and, beginning in 2014, after a public hearing, promulgate rules and regulations setting a limit on all greenhouse gas emission sources. The limit established by the Department must be less than the 1990 limit and must not impose additional burdens on communities already experiencing significant levels of regulated air contaminants as compared with the county average. Beginning in 2015, the limit established by the Department would be decreased by 2.3 percent each year, resulting in an 80 percent reduction by 2050.
---
Assembly Passes Bill Requiring Stores to Recycle Plastic Bags
The Assembly passed legislation (A.8810-C/ Sweeney) to reduce the environmental damage caused by single-use plastic carryout bags. It is estimated that up to one trillion of these bags are used worldwide each year, with billions ending up as litter, contaminating the environment, and posing a risk to wildlife and marine life.
The Assembly bill would require large retail stores that provide customers with plastic carryout bags to establish in-store programs for customers to return those bags for recycling. Additionally, the stores would be required to make reusable bags available to customers for purchase and permit those bags to be used in lieu of single–use bags. In establishing return programs, the stores would be required to make available clearly-marked and accessible bag collection bins, and ensure that each plastic bag provided by the store is printed with the recycling information. Manufacturers of compostable plastic bags would be required to indicate that compostable bags are not recyclable. The bill defines compostable plastic bags as plastic bags that meet at a minimum the American Society for Testing and Materials Standard D6400 for compostable plastic.
The legislation would also require plastic bag manufacturers to make arrangements with the stores (at their request) for the proper collection, transport and recycling of the returned bags. Furthermore, the manufacturers would be required to develop educational materials encouraging the reduction, reuse, and recycling of plastic carryout bags.