Rural Resources Commission Visits Cornell University
Assemblyman Koon, Vice-Chair of the Legislative Commission on Rural Resources, and Senator Patricia McGee, Chair of the Commission, visited Cornell University in May to hear updates of the many rural activities taking place on and off campus.
New York State Farm Viability Institute. A new not-for-profit program to provide technical and business assistance, feasibility studies, networking and other assistance in areas such as dairy product value enhancement, crop value enhancement through processing and value added horticulture.
Local Government Program. Results from a recent Empire State Poll found that New Yorkers feel that the most burdensome tax is the local property tax, while at the same time they feel that they get the best services from local government. This poses interesting questions for policy makers.
Rural New York Initiative. Areas of research in this program include: the changing structure of agriculture and food systems; poverty and social inequality; environment and society; and, community and economic development.
Rural Research Roundtable. Faculty and staff from many Cornell departments get together regularly to discuss rural issues and priorities. Mr. Koon and Ms. McGee participated in a wide-ranging discussion of issues such as: education; medical care shortages; pollutants; economic development; and the lack of an overall solid vision for New York's rural areas.
Commission Legislative Highlights
The following bills passed the Assembly and Senate and await approval by the Governor.
No Interest Loans for Physicians. Assembly bill 10338/Senate bill 6809, sponsored by Assemblyman Koon would provide financial assistance for physicians establishing practices in rural, underserved areas. Loans could be used for equipment purchases only. Enactment of this bill would be one step toward addressing the physician shortage in our rural communities.
Micro Business RLF Assistance Grants. Assembly bill 6679-A (Lifton) would create a micro business revolving loan fund (RLF) to assist with small, agriculture related, value-added businesses.
Farmland Viability. Assembly bill 9520-A (A. Gunther) clarifies the definition of an applicant in the farmland viability program. Section 329 of the Agriculture and Markets Law was created "…to improve the profitability, efficiency, and farm income of participating farms. The program shall provide technical and financial assistance in the form of matching grants to applicants for projects which contribute to overall farm profitability and sound environmental management."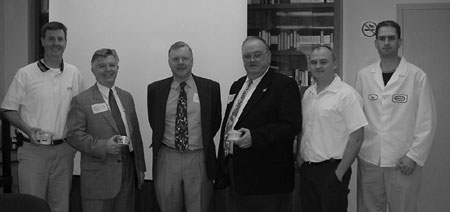 Assemblyman David Koon (2nd from left), Vice-Chair of the Legislative Commission on Rural Resources, and Agriculture Committee Chair Assemblyman Bill Magee (4th from left), toured the Kraft cheese plant in Lowville, NY. This plant makes cream cheese using milk from local dairy farmers.