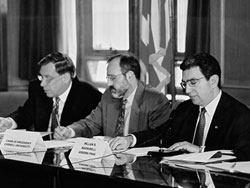 James A. Severson of Cornell Research Foundation and Charles Kruzansky of Cornell University joined Assemblyman Bill Magnarelli, Chairman of the Assembly Task Force on University-Industry Cooperation on May 9, 2002, at a roundtable discussion on Patent Policy, attended by leaders from various companies and universities from throughout New York State.

On May 9th the Task Force hosted a Patent Policy Roundtable discussion in Albany. The event was attended by a diverse group of 17 experts in the field — from university researchers and administrators to business/industry representatives to patent attorneys.

As the national economy has become more driven by scientific and technological discoveries, states have become ever more competitive in providing incentives for university-industry research and development and in attracting federal R&D funds. Patent policy is one element that creates the environment for research and development and the value of a 'good' policy cannot be overstated. The latest licensing survey conducted by the Association of University Technology Managers (AUTM) notes that American colleges and universities and the inventors who work at them collected more than $1 billion in royalties, created 368 spin-off companies, and filed for 8,534 U.S. patents in the 2000 fiscal year. According to the AUTM findings for 1999, New York leads the nation in generating income from licensing.

However, while some reports and data show New York in a very positive light, others do not. An example of this is found in a recent report released by the Beacon Hill Institute at Suffolk University [State Competitiveness Report 2001], where New York was found to rank only 14th nationally in new patents issued per capita. An Opinion Survey of selected states designed to gauge perceptions of public and private opinion leaders was also conducted by the Institute and, according to this opinion survey, New York ranked 8th out of 8 selected states — California, Connecticut, Massachusetts, New York, North Carolina, Texas, Vermont and Virginia — regarding leaders' perceptions of their own states' competitiveness. New York also ranked lowest in this opinion survey with regard to the ease with which entrepreneurs with innovative business plans can easily find venture capital. Finally, the State ranked last in an opinion regarding the degree of collaboration between companies and local universities.

The role that patent policy plays in these perceptions may indeed be pivotal, and understanding the policies and procedures that lead to significant technology commercialization may be key to improving New York's economic competitiveness. The meeting focused on the following key issues:

Measuring Success of University Patent Policies. Participant discussion revealed that each university has its own method of assessing 'success' and determines its own measures and goals. Factors varied among participants, as did the weight put on each measure, but usually included the number of disclosures submitted, licensing income, patents issued, leveraged research dollars, and contribution to overall economic development — i.e. business startups and jobs.

Conflict of Interest in the Technology Transfer Process. Participants considered the conflict between a professor's interest in publishing results of his or her research and the technology transfer office's interest in obtaining intellectual property rights as promptly as possible to be one of the obstacles to an efficient university technology transfer. The conflict involves industry's desire to keep potential technologies out of the public knowledge until commercial success is feasible and they become patented. Universities, on the other hand, are inclined to make the results of research available to the public at large earlier in the process. Creating a culture within a university and the surrounding community where administrators, faculty, students, licensing officers, industry, and the State can work in an environment that nurtures the interest of each party is an integral part of technology transfer according to many participants.

Marketing Strategies. When commercializing university technologies, a university technology transfer office has to decide how to market a particular technology. It was noted by many that other states, such as New Jersey, go out of their way to attract business start-ups, including companies currently incubating in New York. New York does not seem to have a coherent strategy to attract and retain new, high-tech businesses. While several participants expressed satisfaction with their respective institutions' marketing strategies, they noted that the process is very dependent upon staff resources. In some cases, technology transfer offices are simply not adequately equipped to handle all that is required along the concept-to-commercialized-product continuum.

Patent Policy Boards. Patent Policy Boards and Advisory Boards that have a role in commercializing the results of research were acknowledged as crucial to the success of a university technology transfer process. Having successful business people and renowned professors in specific fields of science, medicine, chemistry and physics, for example, to advise universities in pursuing particular technologies for licensing was deemed an invaluable resource.

Funding. Particular attention was paid to the need for the State to match federal funding that targets small technology companies as well as collaborative research efforts between those small companies and research institutions.