Report on the Legislative Hearing on
The Role of New York State in Commercializing
Research & Development Innovations
On February 27, 2006, Assemblymembers William B. Magnarelli, Adele Cohen and Joseph D. Morelle, joined by Assemblymember David Koon, conducted a hearing in Albany on The Role of New York State in Commercializing Research & Development Innovations. The purpose of this event was to identify and articulate a strategy for assisting the commercialization of innovations resulting from Research and Development (R&D) conducted at research institutions throughout New York.
Universities in New York were exceeded only by California in R&D expenditures from all funding sources in 2003, and by just Texas and California in R&D expenditures funded by state and local governments, according to data from the National Science Foundation.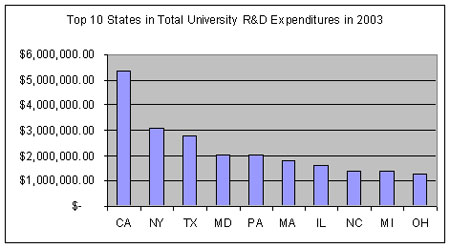 Source: National Science Foundation, Science and Engineering Indicators 2006
The increasing level of State resources devoted to university R&D and the high level of total R&D conducted by universities in New York have given rise to expectations of significant commercialization in the State. By some measures, New York did well, such as in the amount of royalty and license income (1st), according to the 2006 Development Report Card of the States from the Corporation for Enterprise Development (cfed).
However, as the chart below illustrates, New York falls to 8th place when examining the number of university spin-offs for each $1 billion dollars in R&D spending. Thus, it seemed prudent to review State policies that assist or hinder commercialization efforts.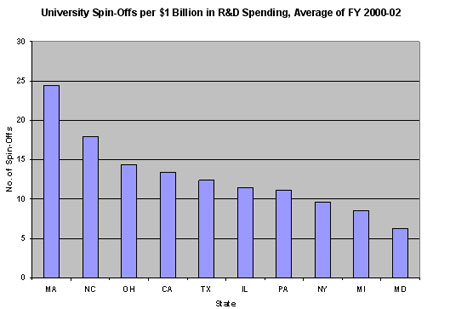 Source: cfed, 2006 Development Report Card for the States
After examining commercialization policies and programs in New York and other states, the Assembly members determined that receiving input from partners in the commercialization continuum, including researchers, investors, industry associations and manufacturers, would be extremely helpful in understanding how to develop such a strategy and what crucial components are needed to make that strategy successful.
Over 30 witnesses testified on a range of topics relating to commercialization, focusing primarily on four categories: Funding, Navigating the System, Commercial Space, and Workforce Development.
FUNDING
Several witnesses spoke about the "Valley of Death" - referring to a gap in funding for entrepreneurs and start-up companies at the point where they are looking to develop commercial applications for scientific research, but do not have a specific product or prototype. This pre-seed and seed financing is rarely available in the financial markets due to the high level of risk involved and the long time period required before investors can realize a profit. Friends, family and government grants - such as the federal Small Business Innovation Research (SBIR) and Small Business Technology Transfer (STTR) grants, as well as the entrepreneur's own resources, are the usual sources for pre-seed funding.
Some angel investors may participate at this stage and, to a limited extent, venture capitalists invest in seed-stage deals. Seed-stage financing has historically amounted to only one to five percent of annual venture capital disbursements, with eight percent of the total in 1993 being the highest allocation in the past twenty-five years. After the dot-com bust in 2001, venture capital investments dropped dramatically, including the dollar amount and the percentage allocated to seed-stage deals.
Venture capital fund-raising and investing reflect financial market events and opportunities, including the outlook for exits through initial public offerings (IPOs) or mergers and acquisitions. The weak IPO market in recent years has been a major factor in the unusually high level of venture fund investments in later-stage deals, which offer quicker exits for existing venture funds. The following chart illustrates the shift to later-stage deals.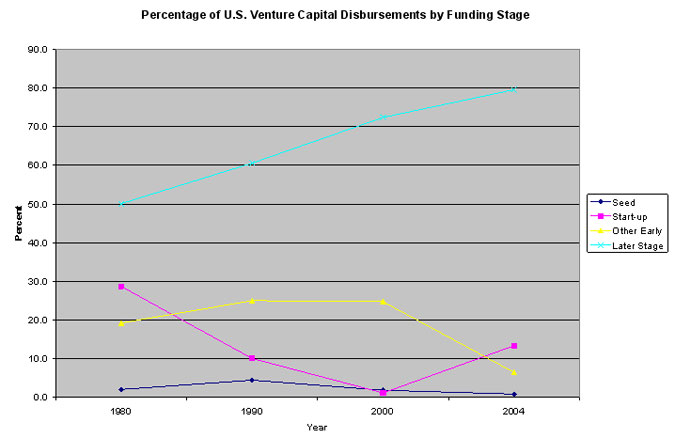 Source: National Science Foundation, Science and Engineering Indicators 2006.
While there is no specific data on the level and amount of pre-seed and seed funding available in New York State, there is no obvious reason why the State would differ from national trends. In terms of overall venture capital disbursements, New York has been in the top five states in venture capital investments every year over the past ten years, except for 2004, and has been in the top five states in the number of companies receiving venture capital from 1996 through 2005, according the Price Waterhouse/Venture One/NVCA survey. The State has also done fairly well in attracting SBIR and STTR awards, being in the top ten states from 1998 through 2004.
However, New York is far behind the perennial leaders, California and Massachusetts, in attracting venture, SBIR, and STTR funds. Notably, Upstate has attracted less than one percent of national venture capital investments during this time frame.
Start up ventures in R&D always are high-risk, and the range of investment opportunities in all 50 states, as well as internationally, is practically unlimited. Angel and early-stage investors need increased incentives to look first at opportunities in New York State.

Myron S. Wecker
NYS Center for Advanced
Technology in Photonics Applications
Witnesses offered several recommendations to increase the level of pre-seed and seed funding, including:
Make greater use of the State Common Retirement Fund for early stage investments.

Create a State fund-of-funds to invest in professional venture capital funds that are dedicated to seed funding, possibly with matching money from the Retirement Fund.

Provide tax credits for corporate R&D (note: New York State has a nine percent credit for R&D expenditures by small technology companies that, unlike the incremental Federal R&D credit, is based on entire annual R&D expenditures); enhance the existing angel investor tax credit; and make the credits permanent.

Authorize another round of tax credits for the CAPCO Program.

Waive the minimum corporate tax on start-ups for five years.

Give tax breaks to universities to create their own gap funding mechanisms.

Provide matching funds to SBIR grant recipients.

Allow teams of companies to compete for smaller grants for prototyping.

Support business plan competitions that use a team approach, paring an inventor with a management/business partner.

Fund university technology transfer offices so they can complete more of the necessary technical and commercial pre-market analysis, as well as create a standardized market analysis mechanism for all technology transfer offices to use.
... the "push" model, where the government and universities decide what to develop, is likely not the most efficient job-creator mechanism. A market-based "pull" model, where industry helps set some part of the research agenda... needs to be carefully considered.

Mark Weldon
Syracuse University
One witness recommended that the State refocus its investments in R&D to small and start-up companies, rather than universities, so the companies could select their own research partner from among New York's colleges and universities. One way to accomplish this would be for the State to provide matching grants to companies that are awarded Federal STTR funds. STTR provides grants to small business to research the feasibility of an idea or technology (Phase I grants) and to perform R&D and determine commercial potential (Phase II). Unlike the SBIR program, the STTR program requires that the small business collaborate with a nonprofit research institution. Central to this program's purpose is the expansion of public/private sector partnerships to include joint venture opportunities for small businesses and the nation's premier nonprofit research institutions.
NAVIGATING THE SYSTEM
The [Comprehensive Commercialization] Center would have a primary objective of helping to stimulate investment deal flow and would also be tasked with developing and administering, or identifying a partner to do the same, a pre-seed fund to support these deals and other early-stage commercialization activities.

Kristin Mucitelli
Heath Manufacturers Association
of Central New York
Almost all of the witnesses raised the issue of there not being a single process, or single entry point, to access commercialization assistance and related services.
There are some State-level programs funded either through the New York State Office of Science, Technology and Academic Research (NYSTAR) or the Empire State Development Corporation (ESDC) that provide both technical assistance and access to funding, or at least to funding networks, for both early and later stage commercialization. However, it was suggested that overall coordination could be strengthened and information dissemination and marketing of the State's commercialization funding opportunities on its websites could be improved.
Witnesses consistently recommended some degree of centralizing commercialization assistance at both the State and regional levels:
Establish and fund an Office of Technology Commercialization at each of the State's Centers of Excellence, and all major SUNY campuses, that would be staffed by experts whose full-time focus is to support the entrepreneurs in the State.

Establish a New York State Technology Commercialization Clinic which would operate in conjunction with the State's Science and Technology Law Center. The Clinic's dedicated focus would be to deal with Intellectual Property (IP) and other issues related to commercialization of State-supported R&D products and processes.

Create regional Comprehensive Commercialization Centers to provide an array of services including business mentoring, market assessments, pre-seed fund administration, and referrals to specialists such as IP attorneys.

Use regional Small Business Development Centers and university schools of management and business to provide commercialization assistance services, and integrate more business schools into the tech transfer process at universities.

We also must have continued flexibility in dealing with intellectual property issues, while always staying within State regulations. The ability to negotiate such issues with both new and existing companies is crucial to the success of technology transfer.

Gerald Sonnenfeld
Binghamton University

Increase funding for low-cost, but successful, initiatives such as the Regional Technology Development Centers (RTDCs), which play a key role in helping new and emerging businesses move new technological breakthroughs from the research lab to the marketplace.

Convene university tech transfer leaders and practitioners and give them the responsibility of developing a commercialization policy for the State. Industry-specific metrics for purposes of accountability also need to be devised since one size does not fit all.
COMMERCIAL SPACE
A crucial component to technology commercialization is the availability of suitable and affordable space. While incubator facilities in New York State continue to grow, the supply still falls short of what is required - most notably in New York City.
...while the New York Metro region is the second highest recipient of NIH funding, there is virtually no commercial space in the metropolitan area.

Maria Gotch
New York City Investment Fund
The number of incubators in the State has grown 25 percent since 2003. The State overall is currently home to 77 incubators where startups get management guidance, technical assistance, and consulting tailored to young, growing companies. These incubators host more than 600 companies, and occupy more than 3.6 million square feet of space. The incubators support companies that employ more than 4,000 workers.
However, incubator space is not always located where it is most needed, and greater development of space for intermediate-stage companies is required.
Affordable, appropriately equipped space is the single most important issue in the State's biotech industry - for early stage and product manufacturing. Expansion capacity is crucial to life sciences industry growth. The need is particularly acute in the New York Metropolitan area, where the size of the commercial bioscience industry is small compared to the region's life sciences academic assets, especially considering the other elements crucial to successful commercialization, such as venture capital and business management expertise, are well-developed.
It was noted that the New York Metropolitan area is home to approximately 140 biotech companies, compared to 600 in San Francisco and over 250 in Boston. New York's companies are also relatively small. San Francisco boasts 17,600,000 square feet of commercial lab space, Boston 15,812,893, while the New York City Metro area can claim only 361,000. Within the NYC Metro area, start-up firms spun out of NYC biomedical research institutions are often lost to New Jersey or Connecticut where affordable lab space is more readily available.
Recommendations:
The State must aggressively offer incentives for development of affordable, appropriately-equipped space in the New York City Metro area.

New York must pursue policies that encourage expanding Life Sciences companies that cannot be accommodated within the Metro area to re-locate upstate.
WORKFORCE DEVELOPMENT
An educated, highly skilled workforce is crucial to commercialization efforts, and a number of national reports have observed a troubling decline in the number of U. S. citizens who are training to become mathematicians, scientists and engineers. While the number of jobs requiring science and engineering (S&E) training continues to grow, fewer students are choosing to study these subjects. Further, undergraduate S&E degrees in the U.S. are being awarded less frequently than in other countries.
To keep America competitive business and industry needs many more of these prepared entrepreneurial minds than the handful we are graduating today.

Andres Fortino
Marist College
The proficiencies required for successful commercialization are not limited to science, math, and engineering, however. In fact, without entrepreneurial skills innovations are not going to leave the lab. This step requires a keen understanding of marketing, including how to develop a comprehensive business plan as well as a strategy for cultivating investors.
Recommendations included:
Create a forgivable student loan program for science and engineering students who agree to stay and work in the State for a prescribed period.

Establish relevant workforce development programs to address the mix of skills needed to move ideas along the lab-to-market continuum - especially in regulatory affairs, quality assurance and control, and good laboratory practices.

Support programs that impart entrepreneurial and business management skills, including marketing, that need to be mastered in order for commercialization to be successful.

Fund internships and cooperative work assignments that bring students and faculty into the commercialization arena.
Looking to the Future
Reinforced by the Hearing testimony, the Assembly remains committed to identifying and supporting programs that result in successful commercialization of intellectual property in New York State. Several legislative initiatives are underway that will yield more assistance and enable the State to have greater accountability for its investments. The following bills are part of these initiatives:
In addition to continuing the efforts to see the above legislative initiatives become enacted, it is anticipated that information-gathering events, such as the hearing, will continue so that the Assembly can remain aware of the issues and needs confronting all parties involved in commercializing R&D innovations in New York State.