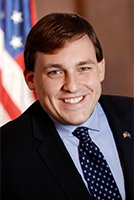 Assemblyman Doug Smith was elected to represent the people of the 5th District in the New York State Assembly on April 24, 2018. His district spans the townships of Brookhaven and Islip, and includes Holbrook, Holtsville, Ronkonkoma, Lake Ronkonkoma, Lake Grove, Centereach, Selden, Farmingville, as well as parts of North Patchogue, Islandia, and Stony Brook.
Doug Smith is dedicated to public service and fighting for Long Island. A lifelong member of our community, he is a graduate of Sachem High School and St. Joseph's College where he earned a degree in Mathematics, Adolescent Education, and is a NYS certified Mathematics Teacher, for grades 7-12.
For the seven years prior to his election, Doug enthusiastically served our community alongside Assemblyman Al Graf serving as his Chief of Staff. Whether it be solving over 2,000 constituent cases, leading the charge against the flawed Common Core curriculum, fighting to give families the tools they need to combat the heroin epidemic, or advocating for changes in the law to protect victims of domestic violence, each day Doug has worked tirelessly on behalf of the people of the 5th Assembly District.
Doug's father is a mechanic, and his mother is a bookkeeper, who instilled in him a strong work ethic, the value of education, and the importance of being civic minded. He began working at a young age to save money for college at Cooky's Deli in Bohemia, where he started off stocking drinks and sweeping the floor. He eventually became a deli clerk.
During college, Doug served as an aide at the Social Security Administration, helping to ensure the hardworking people of Suffolk County secure the benefits they've worked all their lives to earn. He spent nights teaching adult education courses, and on the weekends helped educate homeless and underprivileged youth in the Sachem School District.
Doug is a small business owner who operates a website design and hosting company. He is a member of and previously served on the Board of Directors for the Ronkonkoma Chamber of Commerce. He is also active within the Holbrook Chamber of Commerce. He is a member of the Centereach and Ronkonkoma Civic Associations as well as the Sachem Alumni Association.
Doug and his wife, Elizabeth, reside in Holbrook where they are raising their daughter, Sophie. They attend Westminster United Presbyterian Church in West Islip.