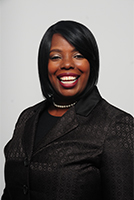 Latrice M. Walker has been serving people her entire adult life.
Walker brings to the New York State Assembly a passion and fortitude reminiscent of the streets of Brownsville, Brooklyn, where she was born and raised. Even as a teen, Walker always wanted to see her name in lights. She had dreams of becoming an actress, but the rigors and rewards of law school, passing the bar and being a practicing attorney drew her back to service.
A graduate of the Pace University School of Law, Walker built a strong record of advocacy that eventually led her to politics. She represented people who were targeted by the NYPD's use of the unconstitutional police tactic known as stop-and-frisk. Walker battled in court on behalf of tenants, including NYCHA residents, who were on the brink of eviction. And she worked closely with advocates and elected officials to preserve affordable housing.
Walker learned the intricacies of the legislative process while working as counsel to Rep. Yvette Clarke (D-N.Y.), mastering everything from organizing and programming to analyzing the effectiveness of community initiatives.
It was her time to march from the streets of Brownsville to the Halls of Justice – perfectly positioned to advocate, agitate, legislate, and litigate.
Walker is the chair of the Assembly's Election Law Committee. And she's a member of the Housing, Judiciary, Codes and coveted Ways and Means Committees. She is a leading voice on voting rights, criminal justice reform, environmental justice, affordable housing, tenants' rights, and a host of other issues that are important to New Yorkers.
While she has compiled an impressive legislative record, she is probably best known for being the engine behind the 2019 bail reform law which eliminated cash bail for most misdemeanors and non-violent felonies. The intent was to stem mass incarceration and to dismantle the two-tier system of cash bail where people who could afford to pay bail were able to wait for their trials at home. Those who couldn't afford to pay – the majority of them Black or brown – were jailed pretrial.
When recent rollbacks were proposed near the end of the budget process earlier this year, Walker went on a hunger strike for 19 days in protest. Some of the rollbacks were beaten back, while others succeeded. She has vowed to keep fighting. Her display of courage drew praise from Buffalo to Brownsville.
In her beloved 55th District, she is a mentor to young people and is beloved by seniors. She is a familiar face in churches, businesses and in the courtyards of public housing developments that no doubt remind her of the Prospect Plaza Houses where she was raised.
When Assemblywoman Walker is not in Albany, she mentors young people, spends time with seniors and is a dedicated mother to her daughter, Nile Anderson. She's an active member of Zeta Phi Beta Sorority, Inc. She lives in Ocean Hill-Brownsville and belongs to Wayside Baptist Church.