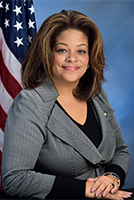 Pamela Hunter grew up in Upstate New York and served in the U.S. Army, honorably discharged with a commendation medal and two achievement medals. After her military service, Pamela received a bachelor's degree in business administration from Strayer College in Washington D.C. with concentrations in human resources and computer information systems. She has a Professional Certification in human resources. Assembly Member Hunter represents one of the most diverse districts in the state, which includes urban, suburban and rural areas including the Onondaga Nation. The district includes the southern, near west and eastern portions of the City of Syracuse and the surrounding towns of Dewitt, Onondaga and Salina.
Prior to her election to the NYS Assembly in 2015, Pamela served on the Syracuse Common Council for three years and chaired the Public Safety Committee. She also has broad professional experience having held executive positions with nonprofit organizations and professional service firms. Her community service includes participation on various boards; AccessCNY, Catholic Charities, Meals on Wheels, Homes Aides of Central New York and the Syracuse Industrial Development Agency.
As a Member of the Assembly, Pamela Chair's the Assembly Majority Conference, leading the discussion on pressing issues that are before the legislative body. Additionally, she is currently the only female veteran in the state Legislature, giving her unique insight as the Chair of the Assembly Subcommittee on Women Veterans. Pamela is a member of the Insurance, Energy, Social Services, Transportation and Veteran Affairs Committees, as well as the Black, Puerto Rican, Hispanic and Asian Caucus and the Women's Caucus. Nationally, Pamela serves as Chair of the Health and Long-Term Care Issues Committee for the National Conference of Insurance Legislators (NCOIL). In this role, she introduces model laws for adoption in states across the country.
Assembly Member Hunter has been a stalwart defender of human rights that includes sponsoring legislation to protect the most vulnerable and has championed anti-poverty legislation, such as the Driver's License Suspension Reform Act that reforms disproportionate negative effects on our poor and populations of color. She also sponsors numerous professional industry bills that aide business in the delivery of services and improve the local economy while protecting consumers.
During the COVID-19 pandemic, Pamela Hunter ensured that those in her district and beyond had access to food, face coverings and sanitizer while assisting individuals and businesses that suffered income loss. As the economy and public health recover, she has been dedicated to finding policy solutions that work for all Central New Yorkers. With the state facing fiscal difficulties, she has remained dedicated to advocating for improved employment opportunities, access to quality education and increased public safety, among other priorities.
Pamela Hunter lives in Syracuse with her husband, son and rescued dog.