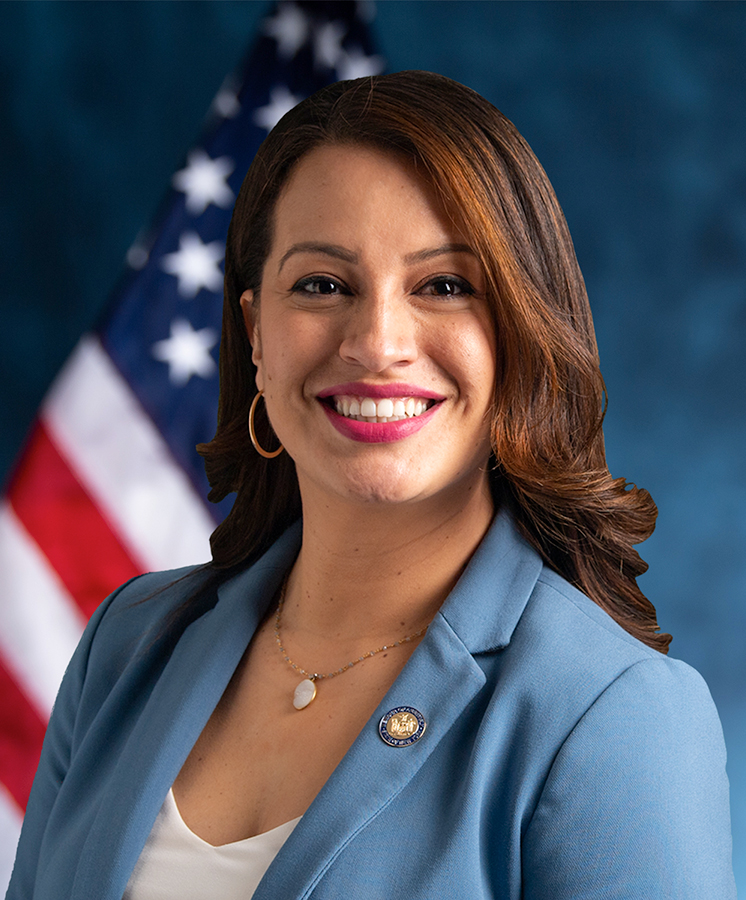 Catalina Cruz has the privilege of representing New York State Assembly District 39, one of the most diverse districts in the nation, encompassing the neighborhoods of Corona, Elmhurst and Jackson Heights, as well as parts of Middle Village and Rego Park.
Catalina was born in Colombia and came to Queens at the age of 9. She grew up as a DREAMer, living in the United States for more than 10 years as an undocumented American. Catalina was raised by a single mother who, like many immigrants, had to work multiple and menial jobs to support her family. As a single mother of four children, she worked long hours during the week as a nanny, cleaned offices at night and sold tamales and empanadas at the soccer fields on the weekends. Inspired by her mother's perseverance, Catalina has committed her career to fighting for our community to ensure our workers, neighbors and families not only survive, but thrive.
Catalina is an experienced attorney and a leader for tenant protections, immigration reform and workers' rights. Prior to becoming the Assemblywoman for the 39th District, she practiced housing law and served in various positions in city and state government, including Chief of Staff to former Council Member Julissa Ferreras-Copeland, Counsel to the City Council's Committee on Immigration and Director of the Governor's Exploited Workers Task Force, among others. In these positions, she represented tenants in housing court, drafted legislation and implemented initiatives to support women, protect workers and champion small businesses.
Since taking office in 2019, Catalina has passed more than 20 new laws to combat food insecurity, curtail the high cost of healthcare, protect aging New Yorkers and so much more. Catalina helped secure billions of dollars for schools, hospitals and libraries within her district through historic state budgets. This funding helped with renovations and the purchase of equipment, as well as to provide services for seniors, families and children throughout her community. Catalina's district office places a strong emphasis on constituent services. Her hardworking staff is proud to have helped thousands of constituents access legal services, small business support, obtain unemployment insurance, health insurance and pandemic assistance, as well as help with mortgage, rent and utility payments. In the community, Catalina and her team address quality of life issues such as garbage, graffiti and snow removal through close cooperation with community boards and city and state agencies. Catalina also conducts dozens of community events yearly, including back-to-school/backpack parties, community cleanups, health and legal clinics and so much more.
Catalina lives in Jackson Heights, Queens. She holds a bachelor's degree from the John Jay College of Criminal Justice and a Juris Doctor from the City University of New York's School of Law. She is admitted to practice law in the State of New York.
---
Catalina Cruz tiene el privilegio de representar al Distrito 39 de la Asamblea del Estado de Nueva York, uno de los distritos más diversos en el país, que incluye a las comunidades de Corona, Elmhurst y Jackson Heights, así como partes de Middle Village y Rego Park.
Catalina nació en Colombia y llegó a Queens a la edad de 9 años. Creció como una SOÑADORA -conocido como DREAMer en inglés- viviendo en los Estados Unidos por más de 10 años como una estadounidense indocumentada. Catalina fue criada por una madre soltera que, como muchos inmigrantes, tuvo que trabajar varios trabajos de baja categoría para mantener a su familia. Como madre soltera de cuatro hijos, trabajaba largas horas durante la semana como niñera, limpiaba oficinas durante la noche, y vendía tamales y empanadas en los campos de fútbol los fines de semana. Inspirada por la perseverancia de su madre, Catalina ha comprometido su profesión a luchar por nuestra comunidad para asegurar que nuestros trabajadores, vecinos y familias no solamente sobrevivan, sino que prosperen.
Catalina es una abogada experimentada y una líder en las protecciones de los inquilinos, la reforma migratoria y los derechos de los trabajadores. Antes de convertirse en la Asambleísta del Distrito 39, trabajó con las leyes de vivienda, y sirvió en varios puestos en el gobierno municipal y estatal, incluyendo el de Jefa de Personal para la ex concejal Julissa Ferreras-Copeland, de Asesora en el Comité de Inmigración del Concejo de la Ciudad, y de Directora de la Comisión Especial del Gobernador para los Trabajadores Explotados, entre otros. Durante estos puestos, representó a los inquilinos en el tribunal de vivienda, redactó legislación e implementó iniciativas para apoyar a las mujeres, proteger a los trabajadores y defender a los pequeños negocios.
Desde que asumió su cargo en el 2019, Catalina ha aprobado más de 20 nuevas leyes para combatir la inseguridad alimentaria, reducir el alto costo del cuidado de la salud, proteger a los neoyorquinos de edad avanzada y mucho más. Catalina ayudó a asegurar miles de millones de dólares para escuelas, hospitales y bibliotecas dentro de su distrito a través de históricos presupuestos estatales. Este financiamiento ayudó con las renovaciones y las compras de equipos, así como para ofrecerles servicios a las personas de edad avanzada, a las familias y niños en toda su comunidad. La Oficina de Distrito de Catalina enfatiza firmemente los servicios a los constituyentes. Su laborioso equipo se enorgullece de haber ayudado a miles de constituyentes a acceder servicios legales, apoyo para pequeños negocios, seguro por desempleo, seguro médico y ayuda por la pandemia, así como recibir ayuda con los pagos hipotecarios, de alquiler y de servicios públicos. En la comunidad, Catalina y su equipo tratan asuntos sobre la calidad de vida como la limpieza de la basura, del grafiti y de la nieve, a través de una estrecha colaboración con las juntas comunitarias y agencias municipales y estatales. Catalina también realiza docenas de eventos comunitarios anualmente, incluyendo fiestas de regreso a clases y de entrega de mochilas, limpiezas comunitarias, clínicas de salud y legales, y muchos más.
Catalina reside en Jackson Heights, Queens. Ella posee un título universitario del Colegio de Justicia Penal John Jay y un doctorado en Derecho de la Escuela de Derecho de la Universidad de la Ciudad de Nueva York. Fue aceptada a practicar leyes en el estado de Nueva York.