Lawmakers, Environmental Leaders Rally to Demand an End to Fossil Fuels in New Building Construction
Assemblymember Emily Gallagher and Senator Brian Kavanagh call for inclusion of the all-electric buildings act in the state budget
Statewide gas ban would prevent 4 million metric tons of CO2 beyond 2 million prevented by NYC ban

March 22, 2022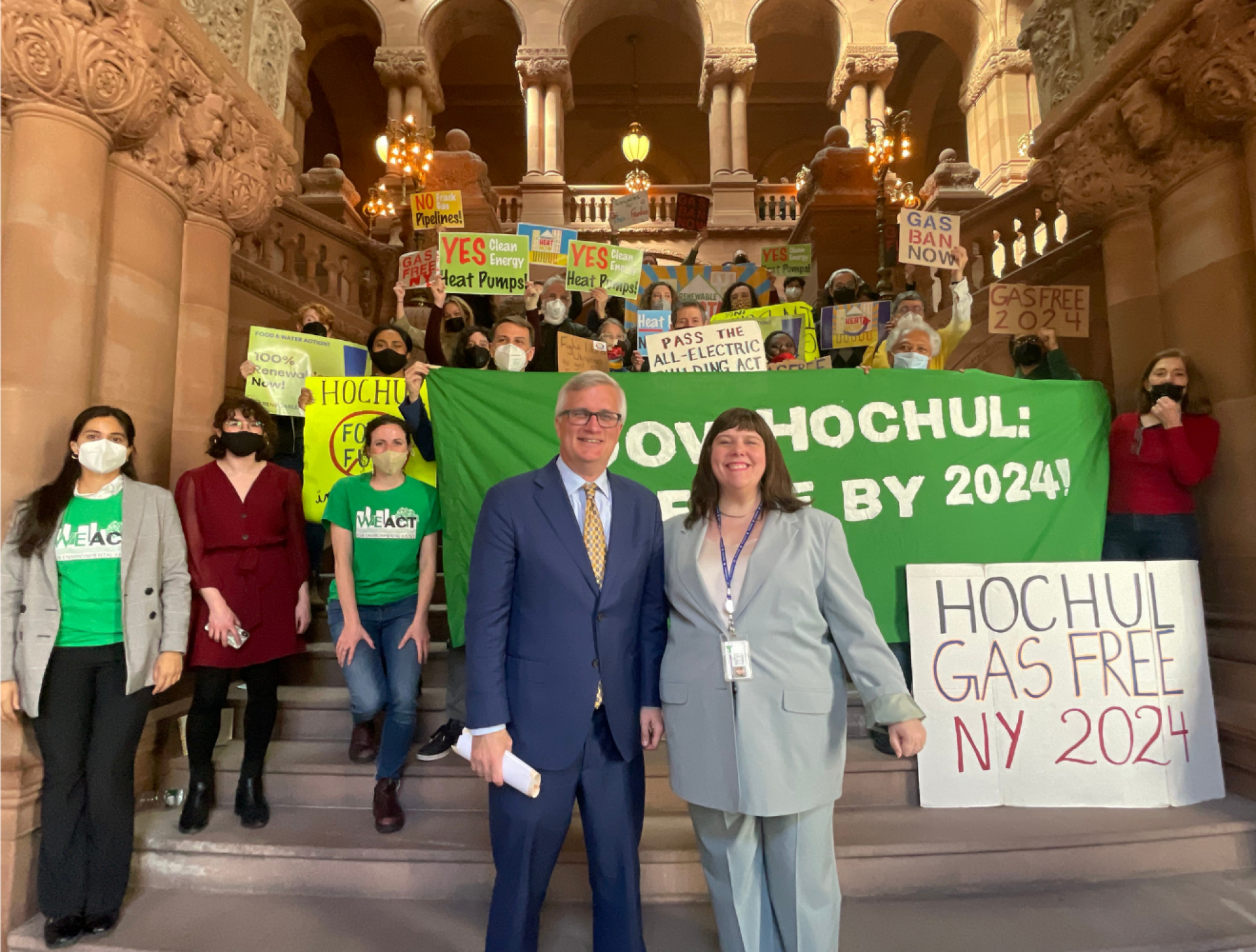 Albany, NY – Environmental and renewable energy advocates joined lawmakers on the "Million Dollar Staircase" on Tuesday to rally for a statewide ban on fossil fuels in new building construction in this year's budget.

"New York consumes more fossil fuels in its residential and commercial buildings than any other state in the country, contributing to poor air quality, premature deaths and dangerous explosions," said Assemblymember Emily Gallagher, prime sponsor of the All-Electric Buildings Act (A8431A). "Working families are at the mercy of wild gas and oil price fluctuations that enrich oil companies, oligarchs, and authoritarian governments. Those outrageous ConEd bills we all got last month? They were because of our dependence on dirty, expensive and dangerous so-called 'natural gas.' We must chart a different path."

"New York's Climate Leadership and Community Protection Act mandates some of the most ambitious targets in the world to fight climate change. But we're not going to meet those targets if we keep building structures that will require fossil fuels for many years to come," said Senator Brian Kavanagh, the bill's prime Senate sponsor (S6843B). "Enacting the All-Electric Building Act is one of several major steps we need to take as soon as possible to curb the rapid destruction of our planet being caused by the climate crisis--and usher in a cleaner, more secure future. Fossil-fuel free buildings are not only beneficial for the health of our planet; they also eliminate dangerous air contaminants that are emitted by indoor gas appliances, which have been linked to higher rates of respiratory illness in children. We have a chance to take decisive action to stop constructing buildings that make both people and the planet sick. This bill will bring us one step closer towards a future of healthy and sustainable homes."

Gallagher and Kavanagh were joined by members of Food & Water Watch, Wood & Water Watch, New York Communities for Change, NY-GEO, Renewable Heat Now, AGREE, NYPIRG, Earthjustice, Mothers Out Front, Climate Reality Project NYS Coalition, Progressive Schenectady, Sane Energy Project and the Building Decarbonization.

"New buildings can and should be constructed without fossil fuels – in other words, they should be constructed so that they protect our health and our environment instead of harming it," said Jessica Azulay of AGREE. "Governor Hochul, Speaker Heastie, and Majority Leader Stewart-Cousins, we call on you to get this done by April 1 in the New York State budget. Pass an all-electric code for new construction that begins no later than 2024. No more gas expansion. No more fossil fuel destruction. Electrify now!

In December, New York City passed the historic Local Law 154, phasing out on-site fossil fuel use in new construction starting in 2024. A recent study found that a similar statewide policy would triple the impact, saving an additional 4 million metric tons of CO2 beyond NYC's 2 million metric tons. All-electric new construction is cost-effective, will help New York address its worst-in-the-nation ranking on premature deaths from building-related air pollution, and help to end ratepayer subsidies of planet-killing fossil fuel infrastructure.

Governor Hochul included a thinly sketched version of a statewide gas ban on new construction in her Executive Budget Proposal for FY2022-23 but on a timeline that fails to meet the moment. The All-Electric Buildings Act, which is co-sponsored by 15 Senators and 38 Members of the Assembly, proposes to ban new construction permits for smaller buildings that use fossil fuels in 2024 and buildings of any size in 2027.

Assemblymembers Phara Souffrant-Forrest, Linda Rosenthal, Chantel Jackson, Ron Kim, and Marcela Mitaynes also spoke at Tuesday's rally.