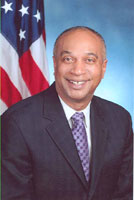 J. Gary Pretlow, a member of the New York State Assembly since 1992, represents the 89th Assembly District, which includes Mount Vernon and Yonkers.
Gary received his degree in Business Administration from Baruch College in 1972 and is a licensed stockbroker and insurance agent.
Before entering politics, Gary was the Manager of Accounting for Bloomingdale's Department Store.In 1980 he joined The Limited, a national retail company, as the Assistant Controller and in 1985 started a partnership, Moncur-Pretlow & Company, a financial planning and management-consulting firm.
During his first year in business, Gary was elected to the Mount Vernon City Council and served until 1992.On the Council, Gary served as Chairman of the Finance and Planning Committee and Chairman of the Capital Projects Board.In addition, as a member of the Urban Renewal Agency and Commissioner of the Mount Vernon Housing Authority, he was instrumental in bringing new affordable housing to Mount Vernon.
In the State Assembly, Gary currently serves as Chairman of the Committee on Racing and Wagering.He is also a member of the Assembly committees' on Ways and Means, Rules, Codes, Insurance and Assembly Steering Committee.In addition, Gary is a member of the Black and Puerto Rican Legislative Caucus, NYS Senate and Assembly Hispanic Task Force and Treasurer of the NYS Association of Black and Puerto Rican Legislators, Inc.
Among the many significant pieces of legislation Assemblyman Pretlow has enacted into law, he is most proud of the passage Cynthia's law. A provision of this law establishes reckless assault of a child as a Class D felony. Furthermore, Cynthia's law raises awareness for shaken baby syndrome by establishing an educational campaign to inform the public of the harm that may result from shaking a young child.
Mr. Pretlow also proudly sponsored a law that legalizes and implements consumer protections for interactive fantasy sports in New York; anticipated to generate approximately $4 million for state Education Aid.
A member of Omega Psi Phi Fraternity, Gary is also a member of the Black Democrats of Westchester and a member of the St. Joseph's Lodge #PHA.
Assemblyman Pretlow is the recipient of numerous awards received in honor of his work on behalf of the people of the State of New York.