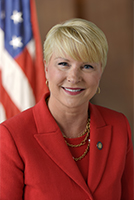 Mary Beth Walsh was first elected to the New York State Assembly on November 8, 2016. She proudly serves the 112th Assembly District, which includes parts of Saratoga, Schenectady and Fulton counties.
Mary Beth's experience as an attorney, advocate for children and families and small business owner provides her with a unique perspective and background when dealing with bills and initiatives. As the Assembly Minority Leader Pro Tempore, Mary Beth puts her experience as an attorney to good use, debating numerous pieces of legislation on the floor. She is regarded as a reasonable, pragmatic, bi-partisan member.
As one of only three female members of the Minority Conference, Mary Beth is passionate about encouraging young women to get involved in government and public service.
Back in the district, Mary Beth has remained deeply involved and has toured countless businesses, not-for-profits, schools, military institutions and community centers. Throughout her time in the Assembly, she has hosted a variety of community events to provide important services and information to the residents of the district – including, ThinkDIFFERENTLY Day at the Saratoga County Fair, Women of Distinction ceremonies, forums on heroin & opioid addiction, domestic violence awareness, workforce development and school safety and Spring Cleaning events promoting safe, responsible disposal of electronics, documents and unused medication.
Mary Beth was appointed Assistant Minority Leader Pro Tempore in 2020 and currently sits on the Education, Judiciary, Mental Health and Ways & Means Committees. Walsh is also the Secretary of the American Irish Legislators Society and is the 2nd Vice-Chair of the bicameral, bipartisan Legislative Women's Caucus.
Mary Beth continues to maintain her law practice in Ballston Spa. She has been a practicing attorney for over 30 years and has practiced almost exclusively representing children in Family Court for 15 years. She is also the municipal attorney for the Town of Edinburg and has served as Saratoga Assistant County Attorney.
Prior to being elected to the Assembly, Mary Beth served in a variety of leadership positions in local and county government, including two terms as a Councilwoman in the Town of Ballston and as a member of Saratoga County IDA, Saratoga County Ethics Advisory Council and Saratoga County Autism Council.
Mary Beth and her husband, Jim, live in Burnt Hills, sharing six children in their blended family and one naughty labradoodle named Kelly.