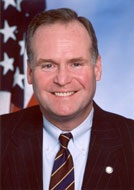 Michael J. Fitzpatrick was elected to the New York State Assembly, on November 5, 2002, representing the 8th Assembly District. Prior to his election to the Assembly, Mr. Fitzpatrick served as a member of the Smithtown Town Council for 15 years, from 1988 through 2002.
The 8th AD, within Suffolk County, is composed of the Town of Smithtown in its entirety and northern portions of the Town of Islip, notably the Islip portion of Hauppauge, and a portion of the village of Islandia.
Assemblyman Fitzpatrick serves as the Ranking Minority Member on the Assembly Housing Committee and is a member of the Ways and Means, Higher Education, Agriculture and Labor committees. Mr. Fitzpatrick is an active member of the New York State Chapter of the American-Irish Legislators Society and is currently serving as secretary.
Maintaining a presence in the private sector, whose vitality he strives to bolster as a legislator, Mr. Fitzpatrick spent 16 years in the financial services industry.
Active in the community, Assemblyman Fitzpatrick is a member of the Knights of Columbus, the Ancient Order of Hibernians, and past president of the board of trustees of the Cleary School for the Deaf in Nesconset, New York, where he remains an honorary trustee. He was a member of the Suffolk County Charter Revision Commission and the Human Services Committee of the Diocese of Rockville Centre.
Assemblyman Fitzpatrick is a 1975 graduate of Hauppauge High School and a 1979 graduate of St. Michael's College in Vermont, from where he received his B.A. in Business Administration.
Mr. Fitzpatrick was born in Jamaica, Queens on April 15, 1957 and raised in Hauppauge, Long Island. He is married to the former Lorena Herrera of Chihuahua, Mexico, with whom he has raised two children, Corina and Michael. The couple resides in the hamlet of St. James in Smithtown.
Standing committee assignments for 2017-18: Housing, Ways and Means, Higher Education, Agriculture and Labor. Member of the Legislative Commission on Rural Resources.