Fitzpatrick And Colleagues Host Public Meeting On High School Diploma Options
March 7, 2016
Skip past photo slidehow
Assemblyman Michael Fitzpatrick (R,C,I-Smithtown) recently joined his Minority colleagues at an education forum in the Hauppauge Legislative Auditorium to discuss high school diploma options that include opportunities for students on the career and vocational education tracks. "We need to clear the pathway for students who wish to pursue career and technical training by reinstating the career and technical education diploma that should have equal footing with the Regents Diploma," said Fitzpatrick. "Highly-skilled workers like welders, machinists, electricians and other vocationally-skilled tradespeople are in high demand. Their skills are needed in the growing technology and manufacturing industries. New York should be supporting this, providing more of our young people with a solid career path in these sectors."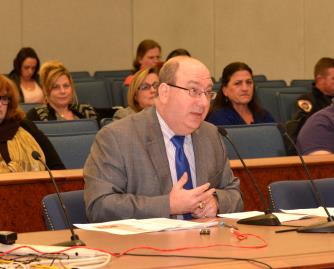 Left: Paul Borowski of Hauppauge testifies at the public meeting.

The legislators will develop solutions to provide more variety in the educational system to support students on a career or vocational track. Fitzpatrick welcomes input on the subject. Please call his district office at 724-2929 or email him at fitzpatrickm@assembly.state.ny.us to make your voice heard.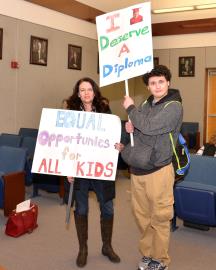 Right: Advocates attend meeting held by Assembly Minority members on high school diploma options.