Warning: include(../../../lib/main_functions.php): Failed to open stream: No such file or directory in /var/www/html/main/write/upload/comm/postings/2010/20100120_0035305/index.php on line 166

Warning: include(): Failed opening '../../../lib/main_functions.php' for inclusion (include_path='/opt/php81/include:/var/www/html/main/lib:.') in /var/www/html/main/write/upload/comm/postings/2010/20100120_0035305/index.php on line 166


Legislative Update from the New York State Assembly
Committee on Tourism, Parks, Arts and Sports Development
Sheldon Silver, Speaker
•
Steven Englebright, Chair
Winter 2009

Assemblyman
Steven Englebright
Chair, Assembly Committee on Tourism, Parks, Arts and Sports Development
Room 712 LOB
Albany NY 12248
(518) 455-4804
engles@assembly.state.ny.us
Message from
the Chair
Hello My Friends,
The 2009 Legislative Session was one of the most difficult for our State in decades. We struggled against the onslaught of one of the worst recessions in our State and Nation's history. Citizens of this great State suffered foreclosure, loss of jobs and loss of personal savings.
Yet despite the difficulties of this year's budget we were able to ensure that our parks, museums, zoos, botanical gardens, aquariums, theaters and other such institutions of optimism remained open and a vibrant source of education, solace and entertainment for New York's citizens and visitors alike. Sacrifices had to be made, but it was important to remind ourselves that a society's true strength is measured by its dedication to the preservation of its shared heritage, environmental legacy and cultural assets.
As Chair of the Tourism, Parks, Arts and Sports Development Committee, I am proud of the many accomplishments of the Committee during this past session. I am pleased to offer to you this brief update that highlights much of this important work.
Please enjoy this newsletter and feel free to contact my office with any concerns, ideas, suggestions or other input about how this committee can better serve all New Yorkers. Thank you.
Sincerely,



Steven Englebright, Chair
Assembly Committee on Tourism,
Parks, Arts and Sports Development
What We Do
The Assembly Standing Committee on Tourism, Parks, Arts and Sports Development is responsible for reviewing and initiating legislation that affects tourism, State parks and historic sites, and arts groups in New York State. The Committee's statutory purview includes: Arts and Cultural Affairs Law, Canal Law, Navigation Law, Parks, Recreation and Historic Preservation Law, Economic Development Law and portions of the Executive, General Business Law and Unconsolidated Law. Entities under the jurisdiction of the Committee include the Office of Parks, Recreation and Historic Preservation, the Department of Economic Development Division of Tourism, the New York State Council on the Arts, the Olympic Regional Development Authority, the State Athletic Commission and the Canal Corporation.
Legislation before the Committee emanates principally from legislators who are aware of the issues facing the tourism industry, tourism-related businesses, and the Office of Parks, Recreation and Historic Preservation, the New York State Council on the Arts, the Department of State and the Canal Corporation as part of the Thruway Authority.
2009 New York State Assembly Standing Committee on Tourism, Parks, Arts & Sports Development
Chairman
Steve Englebright
Committee Members
Majority
Richard Brodsky
Sam Hoyt
John J. McEneny
Margaret M. Markey
Francine DelMonte
Michael N. Gianaris
Jonathan Bing
Daniel J. O'Donnell
Aileen M. Gunther
Ginny Fields
Robert Reilly
Naomi Rivera
Dennis H. Gabryszak
Matthew Titone
Linda B. Rosenthal
Minority
Robert Walker
Teresa R. Sayward
Thomas F. O'Mara
Annie Rabbitt
Stephen Hawley
Staff
Ernest Amabile,
Legislative Coordinator
Teri Kleinmann,
Associate Counsel
James Larson,
Program Analyst
Quinn Hubbell,
Committee Assistant
Devin R. Lander,
Committee Clerk
Assemblyman Englebright and Senator Jose M. Serrano Hold First-Ever Joint Meeting of the Assembly and Senate Committees during 2009 Arts Day
In the spirit of collaboration based on a shared belief in the importance of the arts to New York State, Assembly Tourism, Parks, Arts and Sports Development Chair Steven Englebright and Senate Cultural Affairs, Tourism, Parks and Recreation Chair Jose M. Serrano held a joint meeting of the Committees during the New York State Arts Advocacy Day. This unprecedented meeting was broadcast online and featured testimony via YouTube by freelance artist Jeff Tocci, representatives of the New York Botanical Garden and many others. The joint meeting also featured a performance by Grammy-award winning singer/songwriter Tom Chapin who composed a song for the occasion.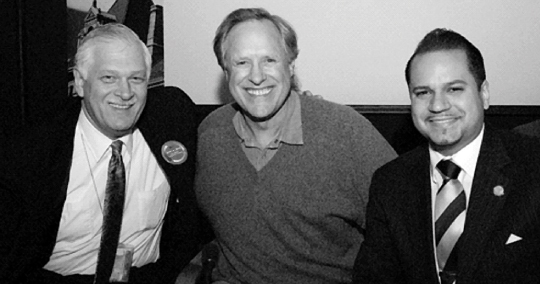 Left to Right: Assemblyman Steve Englebright, Tom Chapin,
Senator Jose M. Serrano
Assemblyman Englebright Meets with Broadway Leaders
In a bold step towards collaboration, Committee Chair Steven Englebright brought talented leaders from New York's famous Broadway theaters and shows together with leaders from the State's Division of Tourism to discuss how Broadway could help promote New York State. New York's original I Love NY television campaign from the late 1970s included many talented performers, directors, producers, writers, and choreographers who donated their services. Assemblyman Englebright's hope is that a similar collaboration can take place in this current era of looming State budget cuts to the tourism marketing program.
---
Assemblyman Englebright Speaks at the 2009 New York State Arts Summit
As Chair of the Tourism Committee, Assemblyman Steven Englebright was the keynote speaker at the 2009 New York State Arts Summit. Assemblyman Englebright spoke about the importance of the Arts to the economy and sense of well being of New York State and how the members of the Tourism Committee fought vigorously during the 2009-2010 budget process to ensure that funding for the Arts was restored.
Legislative Highlights

Fatal error: Uncaught Error: Call to undefined function bill_link() in /var/www/html/main/write/upload/comm/postings/2010/20100120_0035305/index.php:402 Stack trace: #0 {main} thrown in /var/www/html/main/write/upload/comm/postings/2010/20100120_0035305/index.php on line 402