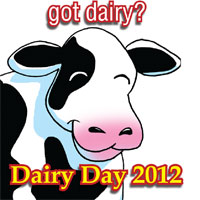 NEW YORK STATE ASSEMBLY
MINORITY CONFERENCE
Brian M. Kolb
Assembly Minority Leader
Ken Blankenbush
Ranking Minority Member, Assembly Agriculture Committee
For Release: Immediately, Tuesday, June 12, 2012
Contact: Joshua Fitzpatrick, (518) 455-3751
Got Dairy?
Super Bowl Champion, Former New York Giants Running Back and NFL "Fuel Up to Play 60" spokesperson Joe Morris headlined annual "Dairy Day" reception hosted by Assembly Minority Leader Brian Kolb and Assemblyman Ken Blankenbush
Super Bowl champion, former New York Giants running back and Syracuse University alumnus Joe Morris, spokesperson of the NFL "Fuel Up to Play 60" program, was a special guest at the Assembly Minority Conference's annual Dairy Day reception in Albany, hosted by Assembly Minority Leader Brian M. Kolb (R,I,C-Canandaigua) and Assemblyman Ken Blankenbush (R,C-Black River). Kolb and Blankenbush, Minority Ranker on the Assembly Agriculture Committee, were also joined by their legislative colleagues, state agriculture representatives and members of New York's dairy industry to celebrate the benefits of dairy products to the health of the state's economy and its citizens.
Morris presented excited children from Glendaal Elementary School in Scotia with a plaque for their commitment to the Fuel Up to Play 60 program, which stresses the importance of consuming nutrient-rich foods, such as dairy products, and exercising at least 60 minutes each day. The Fuel Up to Play 60 program was launched by the National Dairy Council and the National Football League, in cooperation with the United States Department of Agriculture.
"Dairy Day is a great annual tradition, and this year we had the pleasure of welcoming Giants Super Bowl champion Joe Morris to talk about the importance of dairy for good overall health," said Kolb. "However, the real stars of the day were the children who were recognized for eating healthy and exercising regularly. It was exciting to highlight the entire spectrum of the dairy industry at this year's Dairy Day - from the farmers who milk the cows to the children who enjoy the delicious health benefits."
"Dairy Day in Albany provides a perfect opportunity to highlight the hard work and perseverance of our family dairy farmers and local dairy producers, who contribute greatly to our state economy - especially in my district in Northern New York," said Blankenbush. "Making sure that New York policies are beneficial to New York State's dairy industry and family farmers is important for our economy and consumers statewide."
"As an athlete and a dad, I know the important role that good nutrition - including low-fat and fat-free milk, cheese and yogurt - and physical activity play in keeping everyone, particularly kids, healthy," said Joe Morris, alumnus of the Superbowl XXI winning Giants, and four-year starter at Syracuse University. "That's why I'm proud to be here congratulating these students on the commitment they've made to better health by participating in the Fuel Up to Play 60 program."
As of the last Agricultural Census, there are 5,700 dairy farms in New York and the Empire State is the nation's third-largest milk producer and fourth-largest cheese producer, accounting for more than 7 percent of the nation's cheese; ranked third in the production of Italian and mozzarella cheeses, accounting for nearly 10 percent of all production of Italian cheese in the nation; and ranked first in cream, cottage cheese, low-fat cottage cheese and sour cream production.
New York State Agriculture Commissioner Darrel J. Aubertine said, "Dairy is the cornerstone of agriculture in New York State and there is no better time than now to celebrate all the contributions our more than 5,000 dairy farm families make to our economy and communities. From a fresh, local supply of milk and dairy products to the vast open spaces dairy farmers work to maintain, no other industry contributes quite as much to the quality of life we have in Upstate New York as the dairy industry. As a former dairy farmer myself, hats off to my fellow dairymen and women across the State of New York!"
"This year we celebrate June is Dairy Month with children's good nutrition as the main focus. Dairy products play an important role in the daily lives, health and meals for growing children. New York State dairy farmers and dairy processors work very hard to provide our state's consumers with nutritious milk, cheese and yogurt," said Bruce Krupke, Executive Vice President of the Northeast Dairy Foods Association, Inc.
Vendors from across the state featured at today's event included the American Dairy Association and Dairy Council; Cabot Creamery Cooperative; Dairylea Cooperative Inc; Garelick Farm; Hillcrest Dairy; H.P. Hood; Northeast Dairy Foods Association, Inc; The New York Farm Bureau; Organic Valley; PRO- DAIRY; Stewarts Shops; and Upstate Niagara Co-Op.
"The delicious dairy foods the public had a chance to sample today were provided by our dairy farmers, who are some of the hardest-working people you will ever meet and are the true backbone of New York's economy." Kolb said. "Each year, Dairy Day offers a special opportunity for us to give thanks to them and let them know how important they are to our entire state. Drinking milk and getting 60 minutes of exercise each day gives our kids the energy they need to feel great and grow up healthy."
Others in attendance at the reception included Assemblyman William Magee; Dean Norton, President, New York Farm Bureau; Stephen Coye, President, New York State Grange; Jim Buelow, President, Northeast Dairy Foods Association, Inc.; and Schaghticoke Dairy Farmer Kris Brock, Second Vice President, American Dairy Association and Dairy Council, Inc.