News from Assembly Minority Leader Brian M. Kolb
Albany Office:
LOB 725 • Albany, NY 12248 • 518-455-3979
District Office:
70 Elizabeth Blackwell St. • Geneva, NY 14456 • 315-781-2030
E-mail: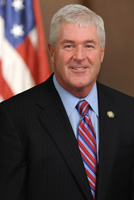 Assembly Minority Leader Brian M. Kolb Pens Letter
To Gov. Calling For Major Change In Direction Of NYS
In advance of the upcoming 2019 Legislative Session, Assembly Minority Leader Brian M. Kolb (R,C-Canandaigua), called on Gov. Andrew Cuomo to consider significant changes to the state's tax code, its economic development programs, ethics laws and public safety policy in a letter laying out a new direction for New York.

"As we begin 2019, I think it's absolutely critical the governor takes a long, hard look at some of the programs and policies championed by the Assembly Minority Conference," Leader Kolb said. "Simply put, New Yorkers are paying too much and getting too little in return. In a few days we will, again, begin taking up bills and getting to the people's business. We must work together toward a leaner, more effective budget and policies that deliver results for New Yorkers in every corner of our great state."

In the letter, Kolb urged Gov. Cuomo to consider making his legislative priorities:
Enacting a permanent property tax cap;
Substantially improving the state's failing infrastructure;
Creating new, cost-efficient economic development programs;
Finally passing real ethics reforms;
Making education more affordable; and
Giving law enforcement the tools it needs to fight the growing opioid epidemic.
Leader Kolb said New York has enormous potential, but too many obstacles stand in the way of realizing all it's capable of producing.

"Quite frankly, until Gov. Cuomo commits to developing sound economic policy instead of finger-pointing and pontificating about things he can't control in Washington D.C., New Yorkers will continue to be denied opportunities for prosperity and will continue to look elsewhere," said Leader Kolb. "Let's make 2019 the year New York gets back to where it belongs."

Attached is a copy of the letter sent to the governor.