News from Assembly Minority Leader Brian M. Kolb
Albany Office:
LOB 725 • Albany, NY 12248 • 518-455-3979
District Office:
70 Elizabeth Blackwell St. • Geneva, NY 14456 • 315-781-2030
E-mail: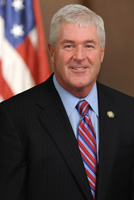 Leader Kolb & Assembly Minority Conference Welcome Nine New Members
Sworn in During Public Ceremony in Albany
Assembly Minority Leader Brian M. Kolb (R,C-Canandaigua) and the Assembly Minority Conference today welcomed nine new Members during a public swearing-in ceremony in Hearing Room B of the Legislative Office Building in Albany. The new legislators took their oaths of office among friends, family, elected officials and other dignitaries.

The new Members, who each bring unique knowledge, skills and experience to the Assembly Chamber, are:
Marjorie Byrnes, 133rd Assembly District
Joe DeStefano, 3rd Assembly District
Michael LiPetri, 9th Assembly District
Brian Manktelow, 130th Assembly District
Michael Reilly, 62nd Assembly District
John Salka, 121st Assembly District
Colin J. Schmitt, 99th Assembly District
Robert Smullen, 118th Assembly District
Mark Walczyk, 116th Assembly District
"I am honored to welcome these incredible individuals to the Assembly Minority Conference," said Leader Kolb. "Each of these new Members has already exhibited so much enthusiasm and excitement to work on behalf of their constituents and I am certain they will carry that energy into the upcoming session. Their passion, hard work and dedication will go a long way toward making New York a better place."

The new Members each expressed gratitude for those who supported them in their electoral efforts as well as for the opportunity to serve in the Legislature.

"I am eager to get to work pursuing important issues for my constituents of the 133rd Assembly District and for all New Yorkers," said Assemblywoman Byrnes (R,C-Caledonia). "The infrastructure crisis in our state is only getting worse and more funding is desperately needed. We need to start from the ground up to get New York back on track and, as an assemblywoman, I am determined to work toward a more affordable, transparent government in New York."

"It is an honor to be elected to represent New York State's 3rd Assembly District," said Assemblyman DeStefano (R,C,I,Ref-Medford). "As my time as Public Safety Communication Supervisor and an active member of the Medford Fire Department demonstrates, I am committed to public safety. I will continue to fight for a safer, more affordable New York for all and look forward to making a difference in the lives of the people of this great state."

"The middle-class families of New York are at a crossroads and their voices were heard loud and clear last November," said Assemblyman LiPetri (R,C-Massapequa). "I was elected by the hardworking residents of the 9th Assembly District to lower the tax burden, provide resources to combat the opioid epidemic, preserve our environment and water quality and clean up Albany government. Together, we can rise to the meet the challenges in front of us and move New York in a new, positive direction."

"As a representative of the people of New York and the 130th Assembly District, I vow to take my job as an assemblyman very seriously," said Assemblyman Manktelow (R,C,I,Ref-Lyons). "As someone with decades of experience as a business owner in the agricultural industry, I firmly believe we need to create a more business-friendly New York and an atmosphere that stimulates economic growth. I will push for a reduction of the unfunded state mandates and high taxes that continue to burden New Yorkers. I am eager to use my background in both the military and in public service toward positive change."

"I am honored to call myself one of the nine newest Members of the Assembly Minority Conference. My constituents have put their trust in me and I consider it my privilege to fight for them, their families and our community every day," said Assemblyman Reilly (R-South Shore). "During the 2019 Legislative Session, I look forward to working with my colleagues to address some of the state's most critical issues—improving the state's education system, combating the opioid crisis and increasing public safety."

"I am humbled by the fact that the constituents of the 121st Assembly District elected me to be their voice in Albany. After countless trips across the district, meeting thousands of proud New Yorkers, I am thrilled to finally be in Albany," said Assemblyman Salka (R,C,Ref-Brookfield). "I believe New York will thrive once we vow to fortify our economy, implement policies that will make our children safer, secure our Second Amendment rights and ensure the state's farmers are able to make a living once again. With new ideas and fresh energy, I will be your voice."

"It is the privilege and honor of a lifetime to represent the 99th Assembly District. I want to thank all the constituents of my district for affording me this opportunity to serve," said Assemblyman Schmitt (R,C,I,Ref-New Windsor). "My office is fully operational and as promised, I will work 24/7 over the next two years to serve our district at home and defend our Hudson Valley values in Albany. I will never stop fighting to ensure our district and state are places where we all can live, work and prosper."

"I am so thankful my friends, neighbors and community put their trust in me and elected me as their representative in the New York State Assembly. I will give them a 100 percent effort 100 percent of the time," said Assemblyman Smullen (R,C,Ref-Meco). "My time in the Marine Corps has helped me hone the discipline and work ethic needed to get things done. I will bring those skills with me to Albany as I continue to work toward a brighter future for all New Yorkers."

"The residents of the 116th Assembly District deserve the absolute best, and I am very fortunate for the opportunity to be a new voice in Albany for my constituents," said Assemblyman Walczyk (R,C,I,Ref-Watertown). "New York has so much potential, and I will dedicate myself to helping it reach new cultural and economic heights, compete nationally and internationally and raise the standard of living for everyone. I will work toward creating more jobs, eliminating needless regulations and a building stronger, smarter government that works for everyone."

Editor's Note: Biographies and photographs of the nine new Members are available upon request by calling the Office of Public Affairs at (518) 455-5073.