News from Assembly Minority Leader Brian M. Kolb
Albany Office:
LOB 725 • Albany, NY 12248 • 518-455-3979
District Office:
70 Elizabeth Blackwell St. • Geneva, NY 14456 • 315-781-2030
E-mail: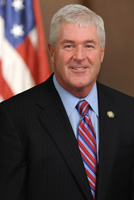 Assembly Minority Leader Brian M. Kolb Opens The 2019 Legislative Session
Today, Assembly Minority Leader Brian M. Kolb (R,C-Canandaigua) addressed the full Assembly to outline his goals and expectations for the upcoming Legislative Session. He spoke, specifically, to the importance of maintaining a strong, independent Legislature—regardless of political affiliation or background— and advocating for policies that make it easier to live and own a business in New York State.

Leader Kolb expressed excitement at the opportunities in front of the Assembly, while acknowledging the challenges facing the state. The Assembly Minority Conference welcomed nine new members in 2019 and Leader Kolb said he was looking forward to working with them to improve the lives of the constituents and residents of New York.

Among the legislative proposals on this year's agenda are:
Lowering taxes and addressing the state's outmigration crisis;
Helping small business owners succeed and create jobs;
Upgrading New York's failing roads and bridges;
Fixing the MTA;
Finally passing real ethics reforms;
Making the property tax cap permanent;
Reining in wasteful, ineffective economic development programs; and
Fighting the heroin/opioid epidemic.
Please click on the image below to view Leader Kolb's remarks.