News from Assembly Minority Leader Brian M. Kolb
Albany Office:
LOB 725 • Albany, NY 12248 • 518-455-3979
District Office:
70 Elizabeth Blackwell St. • Geneva, NY 14456 • 315-781-2030
E-mail: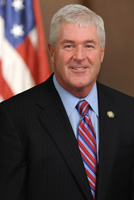 Statement From Assembly Minority Leader Brian M. Kolb (R, C-Canandaigua)
"Amazon's rejection of New York needs to be a wake-up call that Albany needs to dramatically change its economic-development approach.

Our system isn't working when New York has to provide $3 billion in tax incentives to reach the same agreement Virginia received at a fraction of the price. Operating behind closed doors without public input, legislative review or community participation is a recipe for disaster – and we witnessed that today.

The pattern of overpromising and underperforming on job-creation programs must stop now. START-UP NY wasn't transformative. The Buffalo Billion cost taxpayers $750 million to create 750 jobs – with a few officials going to jail along the way. It's time to replace the gimmicks with sustained, comprehensive policies that lower taxes, improve affordability and create an environment that eliminates the need to offer subsidies in the first place.

Today's turn of events send a disturbing message to the rest of the business community. The extreme left wing of the Democratic Party made it abundantly clear to Amazon that it – and its potential 25,000 jobs – was not welcome here. Liberal politicians and special interests made every effort to dictate labor demands, hiring practices and wage requirements. While the misguided fringe may celebrate a short-term 'victory,' they've probably done long-term, irreversible damage to our state's future prospects.

There is no cause for celebration. When faced with an exciting opportunity, New York State snatched defeat from the jaws of victory – leaving only cause for concern."