News from Assembly Minority Leader Brian M. Kolb
Albany Office:
LOB 725 • Albany, NY 12248 • 518-455-3979
District Office:
70 Elizabeth Blackwell St. • Geneva, NY 14456 • 315-781-2030
E-mail: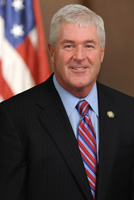 Share Your Thoughts on NY's Future
The 2019 Legislative Session is off to a fast start and I want to hear directly from you about the topics being discussed in Albany.

As Assembly Minority Leader, your input and insight on the state's major policy issues is incredibly valuable to me as the Legislature considers measures that impact the future of our state. I, along with my colleagues in the Assembly Minority Conference, have always believed in collaboration, public participation, and listening to the people we represent.

As such, I have compiled a list of survey questions to better understand where you and our fellow New Yorkers stand on some of the policies making headlines in recent months.

You can find the survey here: 2019 Legislative Survey.

I would greatly appreciate hearing from you. Please take a few moments to complete the survey using the link provided. Your feedback will go a long way toward shaping the legislative session and conversation. Thank you in advance for your time.

Sincerely,
Brian M. Kolb
Assembly Minority Leader