News from Assembly Minority Leader Brian M. Kolb
Albany Office:
LOB 725 • Albany, NY 12248 • 518-455-3979
District Office:
70 Elizabeth Blackwell St. • Geneva, NY 14456 • 315-781-2030
E-mail: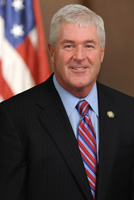 Statement From Assembly Minority Leader Brian M. Kolb (R, C-Canandaigua) on the Future Closing Of Hillside's Varick Campus
"The decision by Hillside to not renew its lease at the Varick campus will impact hundreds of families and employees in the region. This will be an important transition period for everyone associated with the facility. Moving forward, it will be critical to avoid any gaps in services provided to the young people in Hillside programs, and every possible accommodation must be made to find employment for the dedicated workers who now face uncertain futures."