News from Assembly Minority Leader Brian M. Kolb
Albany Office:
LOB 725 • Albany, NY 12248 • 518-455-3979
District Office:
70 Elizabeth Blackwell St. • Geneva, NY 14456 • 315-781-2030
E-mail: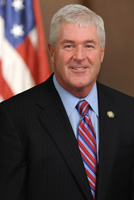 Statement from Assembly Minority Leader Brian M. Kolb (R,C-Canandaigua) on State Parole Board Decision to Release Judith Clark
"The New York State Parole Board has set free Judith Clark, an individual who actively participated in a heinous crime that left two police officers and a security guard dead. The Board's inexplicable decision only raises questions about its credibility, its priorities and its actual value to the people of New York State.
It is unconscionable that criminals who have demonstrated a complete disregard for human life – especially those involved in the murder of law enforcement officers – are able to walk the streets and enjoy the same privileges as law-abiding citizens. A year ago, this Parole Board let loose cop-killer Herman Bell, who was convicted of executing two New York City police officers. The Board's decision today goes beyond bad judgment. It is malpractice.
This is yet another milestone in the reprehensible pro-criminal agenda facilitated by New York liberals that caters to convicts, while ignoring the needs of everyday citizens. From early paroles, to voting pardons, to inmate iPads, to eliminating bail, this state is utterly backwards on what qualifies as right and wrong.
Every crime has a victim. And for many, the crimes they have endured carry their own, terrible life sentences – without the possibility of early release. It's time the misguided Parole Board and those promoting an offensive liberal agenda wake up to that fact."