News from Assembly Minority Leader Brian M. Kolb
Albany Office:
LOB 725 • Albany, NY 12248 • 518-455-3979
District Office:
70 Elizabeth Blackwell St. • Geneva, NY 14456 • 315-781-2030
E-mail: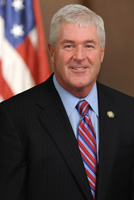 Help Support Our Volunteer Fire Departments
Legislative Column from Assembly Minority Leader Brian M. Kolb (R,C -Canandaigua)
New York's volunteer firefighters are the embodiment of civic duty and self-sacrifice. They are loyal, selfless men and women who provide a tremendous service for their communities, asking nothing in return except for the satisfaction of knowing they are working toward a better New York.

I have long advocated for legislation to protect the interests of volunteer firefighters. Not long ago, I co-sponsored bills A.00711 A.711-B, which are now state law, to expand the Volunteer Firefighters' Benefits Law (VFBL) to cover additional cancers including those of the prostate, digestive, neurological, reproductive and lymphatic systems.

The Assembly Minority Conference has also introduced a bill A.4239, sponsored by Assemblyman Phil Palmesano (R,C,I-Corning), to provide a $400 tax credit to volunteer firefighters and ambulance workers, exempt certain taxes for vehicles used in the performance of duty, create a loan forgiveness program and provide other benefits.

It is critical we always go to bat for those who protect our families and communities. They are the lifeblood of our great state.

"IS THERE A FIRE IN YOU?"

The Firemen's Association of the State of New York (FASNY) is asking New Yorkers: "Is there a fire in you?" As part of its annual RecruitNY effort, the group is making a push for new volunteers. This weekend, fire departments will host open house events to showcase all they do for their communities. For those already serving, consider these recruitment resources at https://www.recruitny.org/resources/.

According to information from the group, since the recruitment effort was launched, the state has added more than 25,000 new volunteers to its ranks. Every new recruit is valuable. I hope each of you have a chance to stop by a local department this weekend, if only to simply offer a "thank you" to those who put their lives on the line for our mutual well-being.

THERE IS MORE WE CAN DO TO PROTECT OUR COMMUNITIES

This week, I met with representatives from the American Red Cross to help launch its "Sound the Alarm" campaign. I had the privilege of speaking at an important event in Rochester, which was part of an initiative to recruit volunteers to install 100,000 free smoke alarms over the coming weeks.

Smoke alarms are important, life-saving devices. Every dwelling needs working, reliable smoke detectors. This weekend is a great opportunity to test your batteries and ensure they are working properly. It's a simple act that could mean all the difference in an emergency.

What do you think? I want to hear from you. Send me your feedback, suggestions and ideas regarding this or any other issue facing New York State. You can always contact my district office at (315) 781-2030 or email me at kolbb@nyassembly.gov.