News from Assembly Minority Leader Brian M. Kolb
Albany Office:
LOB 725 • Albany, NY 12248 • 518-455-3979
District Office:
70 Elizabeth Blackwell St. • Geneva, NY 14456 • 315-781-2030
E-mail: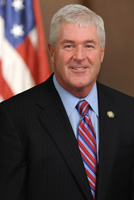 Assembly Minority Leader Brian M. Kolb Statement On The 75th Anniversary Of D-Day
"Seventy-five years ago today, members of America's greatest generation valiantly stormed the beaches of Normandy, France on a mission to defeat evil and tyranny. Their courage and sacrifice was more than a turning point in the war, it changed the course of world history.

Today, we recognize the 75th Anniversary of D-Day – the day on which 150,000 American, British and Canadian forces stormed the beaches of German-occupied France at Normandy. That battle in 1944, and the soldiers who bravely fought, remains among the most profound displays of heroism and bravery we have ever seen.

As the son, father, brother and uncle of U.S. veterans, I have a profound appreciation and respect for our nation's military men and women. Throughout history, they have made countless sacrifices – for many, their lives – to preserve our freedoms and defend us from those who wish us harm.

On behalf of my entire family, I extend my deepest gratitude to those who landed on the beaches of Normandy that fateful morning and all veterans who have served before and after them."