News from Assembly Minority Leader Brian M. Kolb
Albany Office:
LOB 725 • Albany, NY 12248 • 518-455-3979
District Office:
70 Elizabeth Blackwell St. • Geneva, NY 14456 • 315-781-2030
E-mail: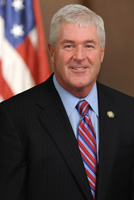 Celebrate Safely During National Fishing & Boating Week
Legislative Column from Assembly Minority Leader Brian M. Kolb (R,C-Canandaigua)
With the spring season behind us, it is time to look ahead to summer, warmer temperatures and appreciating the great outdoors here in the Finger Lakes Region and throughout New York State. While we are fortunate to have numerous recreational opportunities available to us, spending time on the water is among the most popular tradition for many families. This week we celebrate National Fishing and Boating Week, which highlights the positive impacts these summertime traditions have in our communities, including raising awareness for conservation efforts.

The Finger Lakes is home to some of the most beautiful waterways in the country, with 11 unique lakes providing habitats for many different species of fish and aquatic life. There are incredible educational opportunities in addition to fun. Information on each lake and its inhabitants, as well as the regulations for fishing, can be found on the Department of Environmental Conservation website.
TIME ON THE WATER STARTS WITH SAFETY
It is my hope everyone who takes a boat onto one of our waterways does so in a safe manner. Far too often, we hear about instances resulting in injury or death that could have easily been avoided by taking the proper safety precautions. I recommend that any person who plans to operate a boat becomes familiar with the
New York State Boater's Guide
, which is full of vital information that could help prevent tragedy.
I also urge any person operating a motorboat to take a boating safety course. This past week in Albany, I proudly supported the passage of "Brianna's Law"
(A.4853),
which will require any boat operator over the age of 10 to take a boating safety course. Under current law, safety courses are only required for those born after May 1, 1996. The safety of our communities and residents continues to be one of my main priorities.
Further, operating a motorboat while under the influence of alcohol is illegal in New York State. Please take the
proper precautions
and think about your safety and that of others when boating. Even the smallest amounts of alcohol can impair your judgement and coordination – on land and water. Let's work together to create a safe environment for residents and visitors to enjoy this summer!
What do you think? I want to hear from you. Send me your feedback, suggestions and ideas regarding this or any other issue facing New York State. You can always contact my district office at (315) 781-2030 or email me at
kolbb@nyassembly.gov