News from Assembly Minority Leader Brian M. Kolb
Albany Office:
LOB 725 • Albany, NY 12248 • 518-455-3979
District Office:
70 Elizabeth Blackwell St. • Geneva, NY 14456 • 315-781-2030
E-mail: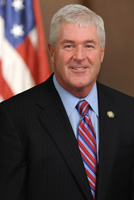 Assembly Minority Leader Brian M. Kolb Statement On Independence Day
"Today we honor America and we celebrate the birth of a nation. On July 4th 1776, our founding fathers adopted the Declaration of Independence and established our place in the world as a free, sovereign country. As Americans, we have much to be grateful for, and on Independence Day I encourage every New Yorker to reflect on all that we are able to enjoy and experience as citizens of the greatest country in the world.

For 243 years, America has stood as beacon of freedom, democracy and achievement. Over the course of history we have changed the world and we have saved the world. Countless heroes have fought valiantly to secure our freedoms and to defend our way of life. On Independence Day we remember our nation's humble beginnings, reflect on a legacy of historic accomplishments and remember those who sacrificed everything to defend American ideals.

I hope that your Fourth of July is spent with family and friends, enjoying good company and memorable festivities. Please remember while celebrating to do so safely. Don't drink and drive, utilize ride-sharing services or public transportation and take all proper precautions around fireworks. From my family to yours, Happy Independence Day!"