News from Assembly Minority Leader Brian M. Kolb
Albany Office:
LOB 725 • Albany, NY 12248 • 518-455-3979
District Office:
70 Elizabeth Blackwell St. • Geneva, NY 14456 • 315-781-2030
E-mail: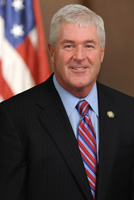 County Fairs Promote Sense Of Community And Boost Local Tourism
Column from Assembly Minority Leader Brian M. Kolb (R,C-Canandaigua)
Across New York state, there are many county fairs, festivals and events taking place this summer, and the Finger Lakes Region is no exception. County fairs, in particular, are a big draw to some communities and help local businesses with economic growth and exposure, particularly in the agri-tourism sector.
Over the next few days, I invite you and your family, maybe even family visiting from out of state, to check out the Seneca County Fair and Ontario County Fair. These long-running events are designed to encourage fair-goers to have fun, learn something new and enjoy the opportunities offered.
STEEPED IN TRADITION, FAIRS PROMISE FUN FOR VISITORS OF ALL AGES
Each summer, generations of fair-goers, vendors, organizers and exhibitors gather for more than 50 county fairs across the state. This year, the 176th Annual
Seneca County Fair
runs through July 20 at the corner of Swift Street and North Road in Waterloo. And, just down the street, the
Ontario County Fair
, scheduled to run July 23-27, will also be celebrating its 176th anniversary in Canandaigua.
From one end of the state to another, county fairs showcase local agriculture and businesses, and the impact they have on state and local tourism and economic development. Daily programs and events are also available to promote community involvement and enhance visitors' connections with the county and region. Additionally, fairs offer wholesome family entertainment, a wide variety of food and delectable treats, rides, games and an eclectic assortment of vendors and artisans.
The New York State Association of Agricultural Fairs offers a complete listing of county fairs in our state
here
.
STAND WITH FARMERS, SUPPORT ONE OF THE STATE'S TOP INDUSTRIES
Agriculture is the one of the
state's leading industries
and I can't think of a better way to show support for our farmers than to visit a county fair to learn more about their impact on our daily lives. From raising livestock to producing fruits and vegetables and harvesting grains, the state's more than 35,000 farms are integral to our way of life and our ability to provide wholesome food for our families, as well as to those across the state and nation.
The hard-working men, women and families of the farming and agriculture industry are part of what make our state great. I am proud to say that the Finger Lakes Region is home to some of the best farms in the country and it has been a privilege to meet and serve the men and women who have worked to make the region world class.
Please join me in celebrating and thanking those who have dedicated their lives to sustaining this vital industry. This weekend, this summer, put on your walking shoes, pack up the family and head to a county fair near you for a fun-filled and educational experience.
What do you think? I want to hear from you. Send me your feedback, suggestions and ideas regarding this or any other issue facing New York State. You can always contact my district office at (315) 781-2030 or email me at
kolbb@nyassembly.gov