News from Assembly Minority Leader Brian M. Kolb
Albany Office:
LOB 725 • Albany, NY 12248 • 518-455-3979
District Office:
70 Elizabeth Blackwell St. • Geneva, NY 14456 • 315-781-2030
E-mail: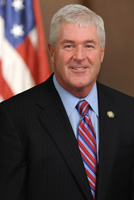 Assembly Minority Leader Kolb Presents $200,000 To Ionia Volunteer Fire Company
Assembly Minority Leader Brian M. Kolb (R,C-Canandaigua) today presented the Ionia Volunteer Fire Company with a check for $200,000 in support of the department's purchase of a new fire truck. During Thursday's event, Leader Kolb presented a ceremonial check to Ionia Chief Lynn Parrish.

"Keeping our communities safe begins with providing support to the courageous first responders who watch over us," Leader Kolb said. "The Ionia Volunteer Fire Company has always stood strong to deliver invaluable services to this region. These brave volunteers need to be at their best when people are facing their worst. I'm proud and honored to help secure important funding for this company and community."

The fire truck supported by today's grant replaces a previous model that was built 1986. The new truck, built in 2016, has upgraded capabilities that include: capacity for 1,500 gallons of water, a 1,250 gallon-per-minute pump, a 2,100-gallon portable pond, five air packs and 1,600 feet of supply hose.

"This new fire truck is an important step toward modernizing operations and improving our ability to keep our community safe. The Ionia Volunteer Fire Company's effectiveness is, most certainly, due to the selfless men and women who comprise it, but having this incredible new equipment definitely doesn't hurt," said Lynn Parrish, Ionia Volunteer Fire Company Chief. "I am thankful for Leader Kolb's help in securing this grant, and for his continued support of our company."

The Ionia Volunteer Fire Company was first incorporated in 1954. Its first fire-fighting vehicles were simply water tanks attached to wagon frames, which were pulled by volunteers' personal trucks. In July 2015, the previous Ionia station was devastated by fire, forcing the volunteer company to operate from temporary locations. In 2018 – exactly three years after the fire – the fire company established permanent residence in its current location.

The grant comes from the State and Municipal Facilities Program (SAM), which is administered through the Dormitory Authority of the State of New York (DASNY). The SAM program was created in 2013, and is designed to provide financial support to state and local governments, non-profits and educational institutions for construction, improvement, rehabilitation, financing and other projects.