News from Assembly Minority Leader Brian M. Kolb
Albany Office:
LOB 725 • Albany, NY 12248 • 518-455-3979
District Office:
70 Elizabeth Blackwell St. • Geneva, NY 14456 • 315-781-2030
E-mail: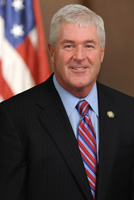 College Costs are Crushing Young New Yorkers
Legislative Column from Assembly Minority Leader Brian M. Kolb (R,C-Canandaigua)
Although most of us are still trying to enjoy every last minute of summer, we've reached the time of year where college students are making their way back to campus. The start of classes is just around the corner, and young men and women are preparing for another year of coursework. But today's college students have to consider more than academic preparations. More and more often, they are dealing with significant financial preparations for the future.

Student loan debt has been mounting for years, holding back the workforce's youngest members and making it nearly impossible to get ahead of cost-of-living expenses. According to a recent Wall Street Journal article, severely delinquent student loans are up drastically since 2012, and now comprise 35 percent of the "severe derogatories" category. Further, of the $1.5 trillion in outstanding student loan debt, 10 percent are a month or more past due and 20 percent are in forbearance or deferment.

These numbers are highly disturbing. And, like most problems impacting large swaths of Americans, New York is hit the hardest. Recent reports show New York's students are coming out of college with an average of $30,000 in debt. Another study shows New York has nearly the highest per capita student debt of any state. We must work to reverse these trends with targeted programs and by improving transparency regarding the costs of college degrees. The Assembly Minority Conference has, and will continue, to push for measures to address these crushing higher education costs and subsequent debt.

ASSEMBLY MINORITY CONFERENCE OFFERS BROAD SOLUTIONS

Reducing the student debt burden must be a priority moving forward. A stronger focus on this growing concern will help not only young New Yorkers, but the overall health of the state's economy. We have offered a number of solutions to that end, including:
Providing an additional $500 to every TAP recipient and increasing the maximum
TAP award;
Increasing the household income cap threshold;
Making graduate programs eligible for TAP; and
Providing a tax break on student loans.
It will take a concerted effort to reduce this already substantial burden. But, with programs aimed at reducing future costs, and ones to alleviate existing debt, we can help make students' higher education investments worthwhile sooner and with more economic effectiveness. After all, today's students are our state's future.

What do you think? I want to hear from you. Send me your feedback, suggestions and ideas regarding this or any other issue facing New York State. You can always contact my district office at (315) 781-2030 or email me at kolbb@nyassembly.gov.