News from Assembly Minority Leader Brian M. Kolb
Albany Office:
LOB 725 • Albany, NY 12248 • 518-455-3979
District Office:
70 Elizabeth Blackwell St. • Geneva, NY 14456 • 315-781-2030
E-mail: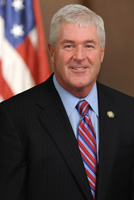 Statement From Assembly Minority Leader Brian M. Kolb (R,C-Canandaigua)
"Today, all of New York State mourns the passing of Senator Bill Larkin. He will be remembered as a decorated soldier, a distinguished statesman and a selfless public servant.

With 40 years in the state Legislature and as an Army veteran who fought in both World War II and Korea, Bill Larkin established a life and legacy that were defined by courage, honor and integrity.

We have lost a great American and an esteemed colleague. My heartfelt condolences go out to his family and loved ones at this time."