News from Assembly Minority Leader Brian M. Kolb
Albany Office:
LOB 725 • Albany, NY 12248 • 518-455-3979
District Office:
70 Elizabeth Blackwell St. • Geneva, NY 14456 • 315-781-2030
E-mail: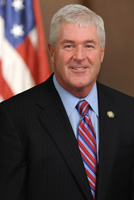 Gov. Andrew Cuomo tried to take advantage of the people of New York, and they weren't having it. New Yorkers made sure the governor's office knew they were not going to put up with an insulting $25 fee to replace license plates when the cost of the plates is nominal and the need to replace them is non-existent.

Further, the administration's attempt to hide the shameless money-grab by allowing residents to vote on the design is like asking a lobster which pot it prefers to be boiled in; at the end of the day, it doesn't really matter. Quite frankly, it was an offensive gimmick.

As a legislative leader and representative of the people of New York, it is my job to protect the interests of taxpayers. When news of this proposal broke, I sponsored a bill to ensure already over-taxed New Yorkers would not be responsible to pay a fee that had no discernable purpose. I am proud to have led the charge against this unnecessary cash grab and will always stand up for taxpayers and their hard-earned money.

BAD PROCESSES MAKE BAD POLICIES

Too often, Gov. Cuomo has ignored public input and unilaterally enacted policies that suit his personal and political ambitions. This time, though, the legislative and public pressure was too great and he was forced to walk back a plan he never should have entertained in the first place. It is a perfect example of how public discourse can, in fact, shape public policy.

Simply put, license plates don't cost that much money to produce. And, the governor's claim that the Legislature condones a $25 fee – the statute allows up to that amount, but does NOT require it – is disingenuous at best. This was a clear attempt to fleece New Yorkers, and rightly so, New Yorkers called foul.

Any future plans with respect to cashless tolling, new license plates or taxes and fees associated with them must take into account the actual cost of the plates and must truly be worth the time, energy and money needed to put a new policy in place. New Yorkers are not here to donate their hard-earned money to the state of New York. Every time they are asked to give their money to the government, there needs to be a very, very good reason. In this particular case, it was obvious to everyone but Gov. Cuomo the reason was greed.

What do you think? I want to hear from you. Send me your feedback, suggestions and ideas regarding this or any other issue facing New York State. You can always contact my district office at (315) 781-2030 or email me at kolbb@nyassembly.gov.