News from Assembly Minority Leader Brian M. Kolb
Albany Office:
LOB 725 • Albany, NY 12248 • 518-455-3979
District Office:
70 Elizabeth Blackwell St. • Geneva, NY 14456 • 315-781-2030
E-mail: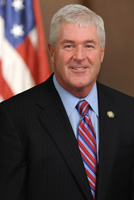 The Tax Foundation released its most recent rankings of the best and worst states in the U.S., and New York is, again, unsurprisingly abysmal. Our place near the bottom of the barrel has become something of an annual tradition, yet nothing to celebrate. This year, New York was ranked 49
th
overall for its tax climate, scoring very poorly in the individual tax index (48
th
), sales tax index (43
rd
) and property tax index (46
th
).
These scores are unsustainable and deeply troubling. Quite frankly, at this rate, people aren't going to want to live here; they aren't going to want to stay here and they certainly will not want to move
into
one of the most toxic places to buy property or own a business in the nation. New York is losing its tax base, innovative business leaders and human capital to other states where the cost of everyday living isn't oppressive.
For the past decade, the state's population has dwindled while ineffective and corrupt economic development programs cost New Yorkers millions of dollars. Albany has done next to nothing to eliminate costly state mandates driving property taxes through the roof. How many more times does New York need to come in last, or close to last, before wholesale changes are made? Every year nothing happens is another year closer to economic disaster.
THE PROCESS IS THE PROBLEM
The infamous closed-door approach to crafting state budgets is among Albany's most dysfunctional annual traditions. With only Democrats at the table, no one is there to ask the tough questions, offer different ideas or present alternative solutions. New York's outrageous cost-of-living and tax-and-spend mentality will not improve under one-party rule.
Even while the national economy is strong and healthy, New York is bracing for a crisis. Thanks to the Cuomo administration's over spending and budget maneuvering, we already face a $3 billion shortfall in next year's Medicaid budget. Expensive, out-of-touch proposals like single-payer healthcare would raise taxes on every New Yorker. Right now, liberals are plotting to fund political campaigns with $100 million a year from taxpayers. It's no wonder that in another recent report from the Tax Foundation, the true value of $100 is lower in New York than in any other state but Hawaii.
Simply put, common-sense proposals are not making it into the governor's negotiating room. His one-party, closed-door process is unbecoming of a government that is supposed to protect the interests of its constituency. And, most importantly, it has failed miserably.
Changes need to come, and they need to come fast. We absolutely cannot afford another budget—another year of lawmaking—that turns a blind eye to the horrific tax problem in New York.
What do you think? I want to hear from you. Send me your feedback, suggestions and ideas regarding this or any other issue facing New York State. You can always contact my district office at (315) 781-2030 or email me at
kolbb@nyassembly.gov
.