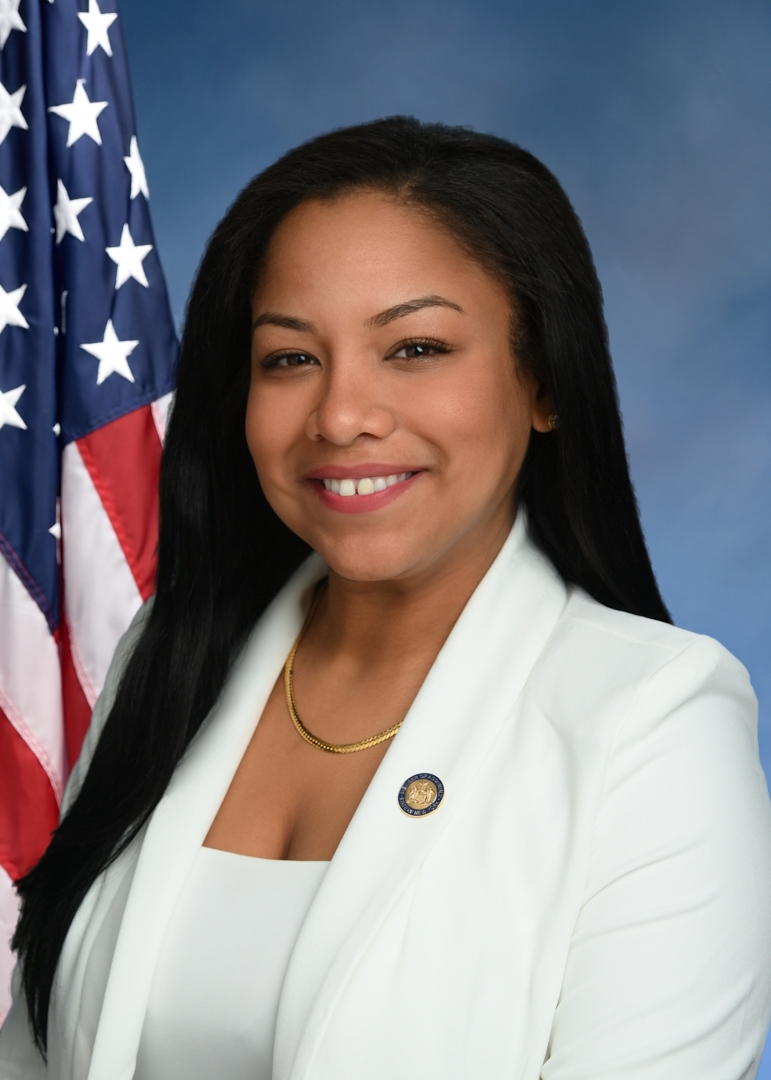 Amanda Septimo is a lifelong Bronx resident with a long, rich history of service to the community. Her spirit of activism and community leadership began in her adolescence and can be traced through the entirety of her career. At just 12 years old, Amanda became aware of the prevailing social, economic, and environmental injustices within our community, and soon began to organize around these causes throughout the South Bronx.
While still in her teens, Amanda began working with The Point Community Development Corporation in its teen activist program, A.C.T.I.O.N. It was during this time that Amanda was able to gain the fine-tuned understanding of what advocacy means for people in The Bronx. Playing an integral role in preventing the new jail at Oak Point, getting the Floating Pool to Barretto Point Park, and extending six bus services exposed Amanda to the power of community activism, and the power of a dedication to change.
In these same years, Amanda volunteered with various local and international groups, including the New York City Parks Department. There, she concentrated her efforts on tutoring local youth: teaching them to read, write, and offering vital mentorship and guidance. While volunteering with the International YMCA, Amanda traveled to West Africa and helped plant more than 300 various fruit juice trees, creating a much-needed boost to the ailing local economy. These public service efforts would gain Amanda the recognition of Community Board 2 and the New York Yankees, who awarded her the 2005 Youth Leadership Award.
Amanda went on to receive the prestigious Posse Scholarship, which earned her a full-tuition scholarship to Vanderbilt University. There, she remained actively involved on campus and used the skills and knowledge that she learned at home in The Bronx towards correcting the injustices within her surrounding community.
Throughout her college years, Amanda served as an intern with the Legal Aid Society fighting cases of domestic violence, with an emphasis on Spanish-speaking immigrants. Amanda also volunteered with the Metro Public Defenders where she operated as an intern case-work investigator; this work allowed Amanda to plant herself within the community, and tackle cases where defendants were often times victims of a criminal justice system stacked against them.
After her years at Vanderbilt, Amanda brought the work of her youth full circle and went on to work with Congressman Jose 47 84th Assembly District E. Serrano — whom she interned with for two years in high school — as a Community Liaison, before being promoted to District Director at 23 years old. In these four years, Amanda was able to observe the powerful connection between policy and opportunities for progress for people in The Bronx.
With this expanded experience and sharpened perspective of government, Amanda went on to work with the Council of School Supervisors and Administrators (CSA) to ensure that school leaders and students have the resources they need to transform every school into a thriving learning environment. After working with CSA, Amanda Septimo fought to bring equity, justice, and true representation to the forefront in the South Bronx by running for State Assembly in the 84th Assembly District. While the campaign was ultimately unsuccessful, the experience allowed Amanda to understand the issues of the community on a granular level and develop common-sense solutions that will ultimately help the South Bronx grow. She won the seat two years later.
Today, Amanda Septimo continues the fight to bring true equity in the South Bronx, so that people can get access to the resources, support, and representation they deserve.