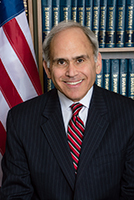 Jonathan Jacobson was elected to the New York State Assembly on November 6, 2018, to fill the seat of the late Frank Skartados, who had an untimely death in April 2018.
At the time of his election, Jonathan was a Newburgh City Councilman where he had championed infrastructure repair, especially fixing the terrible streets. Not satisfied with the status quo, Jonathan did his homework and found $250,000 – which Newburgh did not realize it had coming – from the state for additional street paving.
Early in his career, Jonathan served as an Assistant Counsel to the Speaker of the New York State Assembly and was assigned to the Labor Committee where he researched and wrote legislation. Later, as an Assistant New York State Attorney General, he headed the Consumer Frauds Bureau at the Poughkeepsie Regional Office protecting the people of New York State from fraudulent and illegal business practices. He continued his public service career as a New York State Workers' Compensation Law Judge.
In the early 1990s, Jonathan headed the City of Newburgh Charter Review Commission and wrote a proposed new charter for Newburgh.
Jonathan also started his own law firm and focused on representing workers in workers' compensation and Social Security disability cases.
Jonathan is a product of the Newburgh public school system, having graduated from Newburgh Free Academy (NFA). He graduated from Duke University, cum laude, with Honors in Political Science. Jonathan went on to graduate from New York Law School.