The Assembly Chamber
The original Assembly chamber was designed in a Moorish Gothic style and characterized by the period's architectural critic, Henry Van Brunt, as "the most monumental interior in the country".
The massive volume was marked by a groined vaulted sandstone ceiling that rose to a height of 56 feet above the floor. At the time of its construction, the chamber's ceiling was the widest vaulted structure attempted to that time.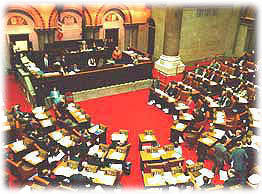 The sandstone was ornamented with bands painted in tones of greenish-blue, red and black, and highlighted with gold. Supporting the spectacular groined arches were four pillars of polished granite.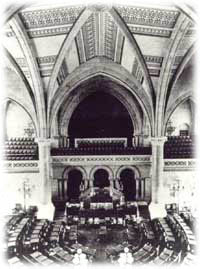 above(right) - 19th century view of Assembly Chamber with the original groined ceiling.
On the north and south walls, large windows of both clear and stained glass provided natural light. Even the chamber's furniture was specially designed for the room. Made of solid mahogany and red leather, it provided the perfect accent for a noble setting. Unfortunately, almost from the start the arched chamber ceiling experienced structural problems. As the foundation in the Capitol began to settle the stone ceiling began to crack and break.
Soon, members were greeted each morning with desks covered in dust and pieces of stone. Finally, when a large rock, the size of a bowling ball, fell dangerously close to an assemblyman, it was decided that something must be done.
Click
here
to learn more about the
ongoing renovations to the Assembly Chamber
That something was a new ceiling, which replaced the original vaulted ceiling at a height four feet below the ceiling's beautiful murals. Today's Assembly chamber, while still an impressive room, only slightly resembles the magnificent wonder that was first opened in 1879.
At the very front of the Assembly chamber is the dais or rostrum where Assembly Speaker Carl E. Heastie presides (click here for more information about Speaker Carl E. Heastie). Alongside Speaker Heastie sits an aide and the Assembly Chaplain. The bottom tier is for Assembly staff, who monitor floor action and attendance.
Today members can tally their votes electronically. Mounted on the walls of the chamber is a state-of-the-art electronic voting tote board. With each of the 150 members connected into the system, members can quickly and effectively cast their vote on a bill within seconds, thus alleviating the past problems of missed votes or wrong votes being cast. There are approximately 2000 bills and resolutions voted on annually in this chamber.