Capitol Flag Room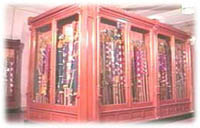 The Flag Room is located at the east entrance of the first floor of the Capitol. On display is part of the nearly 1,000 battle flags that date from the War of 1812 through the Gulf War. Over half of the flags are from the Civil War, where New York regiments fought in many of the great battles. Also here are regiment flags that marched with Teddy Roosevelt in Cuba at the "Battle of San Juan Hill" and with troops in the Philippines during the Spanish-American War. Finally, there are flags from both World War I and II. Those were the last wars in which regiments were formed with soldiers that were all from the same state.
The Capitol Flag Room is a memorial to the loss of life given in the defense of freedom. But time has not been kind to New York's great Battle Flag collection. Over the years, dirt in the Capitol and the surrounding urban environment has soiled the flags. Excessive exposure to light and the method of storage - displaying the flags rolled and vertical - has caused significant damage. The New York State Department of Parks, Recreation and Historic Preservation and the Division of Military and Naval Affairs conducted a survey of the Capitol Battle Flag collection in 1997. All the flags were inventoried and 129 were examined and photographed. A program of care and the development of a flag archive was recommended to insure the long-term preservation of the collection.
Portions of the collection have been preserved and are back on display in the Capitol Flag Room.