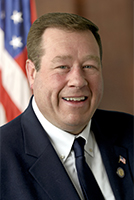 Chris Tague was first elected to the New York State Assembly on April 24, 2018. His district consists of all of Greene and Schoharie counties, along with parts of Delaware, Albany, Otsego and Ulster counties. He previously was elected Schoharie Town Supervisor in 2015.
As Assemblyman, Chris has focused on key issues that affect his constituents, including expanding access to broadband internet, COVID-19 recovery, reducing taxes, providing support for local farmers, and fixing Upstate's failing infrastructure. He is also invested in many social issues like combating the heroin epidemic, which he has addressed during his time as Town Supervisor and Assemblyman, and the protection and support of our firefighters, EMS, and first responders.
Chris is the grandson of a World War II veteran, who instilled hardworking values in him from a young age. His tireless dedication to the community he serves will benefit all of his constituents.
Chris currently resides in Schoharie and has lived there all his life. He attended Schoharie Central School, graduating in 1987. He also played seasonal sports, was involved in the Key Club, was Student Council President, and a member of the Future Farmers of America.
After graduation, Chris started his own successful dairy farm business in 1987, growing from 25 cows to 75 cows, before selling the business in 1992. Soon thereafter, Chris joined Cobleskill Stone Products and he fell in love with the hard work of the laborer position. He was quickly promoted to foreman, then again promoted to supervise the maintenance shops and trucking division. He earned the title of Superintendent of the quarry, overseeing the entire operation until becoming promoted to General Manager. He was then responsible for company-wide health and safety compliance, environmental compliance, government affairs, education, and community outreach.
Chris left his 25-year career at Cobleskill Stone Products in 2018 to work for us as our full-time Assemblyman and fight for our values in Albany.